Mobile apps play a vital role in our lives as it is a great source of information for users and a good platform for business, banking, education, sports, and many more. Apps become the necessity of human beings and connect people worldwide to indulge in various activities anytime. It transforms the shape of the industry with its advanced features and functionality to reach heights.
Mobile apps keep you updated with the latest trends and make communication fast forward with other people. The online healthcare apps offer the best services to their patients for getting proper treatment. These are considered as the best way to connect to their desired specialist without spending much time.
Other than that, mobile apps grow the healthcare industry in a good direction. In order to secure a healthy lifestyle, healthcare apps aim to control our physical condition and keep us connected with our health every time.
Here we go with the facts about the healthcare applications development that has transformed its pace in the industry via mobile apps. To know the importance of mobile apps for the medical industry. Read the article further.
Statistics Analysis of Healthcare Apps
Nowadays, more than 10,000 medical apps for doctors and patients are developed to support users with the best health services. There are various mhealth apps that offer different features and paid schemes to enhance the business model of the apps.
The investments via health apps increased to a large extent. The most popular mobile health app boosted by 300,000 paid and 6 million people downloaded the app on their mobile phones daily worldwide.
Over 50% of healthcare apps are being promoted via online promotions to increase their demand in the industry and connect more customers to get treatment with proper feedback. In the US, The telehealth sector had the highest investment with 1.78 billion dollars in the year 2020. US adults use and purchase health apps about 44 percent based on the global consumer survey.
Need for Mobile Healthcare Industry Development
Here, we discuss some important factors that contribute to our focus on the development of mhealth apps. The healthcare industry has been in the limelight for many decades. Some limitations make this healthcare platform slow in process and patients feel irritated to get treatment in hospitals.
The healthcare systems are becoming more expensive due to their high cost. A lot of people suffer from severe problems and are not able to go to hospitals due to high expenses. Healthcare apps give a great platform for such users to get the services at their own convenience.


Due to staff deficiency, the patient could not get the proper care and faced problems while getting a diagnosis or treatment. mhealth is the best solution to solve your health-related problems and get the facilities on time. These apps are helpful to get the service provider at the comfort of your home and get the treatment accordingly.


People who live in villages don't have access to well-qualified professionals and they are not comfortable getting remote treatment. For such patients, health tracking apps are the primary choice to detect their health issues and as per their problem, get a prescription from the doctor.


Features of Healthcare App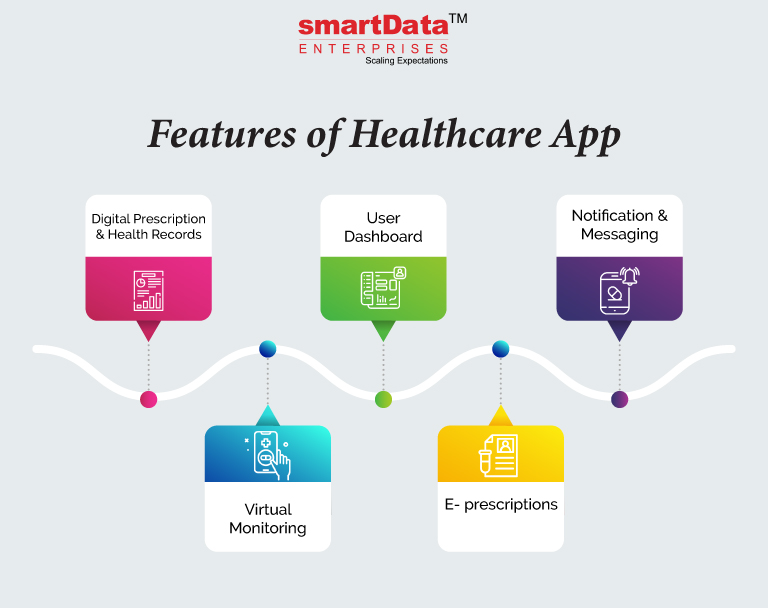 These are some features that the health app incorporates and is efficiently used by the users to record their health care data and access medical treatment. The goal of every healthcare app is similar as it comes with a package of reliable services and advanced methods.
E- prescriptions
This technology helps the users to get online prescriptions without going to hospitals. It will save time as well as money for both patient and doctor. A specialist can generate and send the prescription to the desired patient including all the relevant details with it.
Virtual Monitoring
Mobile apps allow the patient to schedule appointments and get their treatment on time. Doctors will monitor your health according to your medical record and the problem explained virtually through video conference or calls. This feature is simple to use by all the patients and adapts new ways to get the desired treatment.
Notification & Messaging
No need to wait for a longer time for ensuring the appointments. Online health apps can give a reminder for your checkups or diagnosis. The notification feature is useful for getting your treatment on time without any hassle. Online transactions are also possible due to these apps. You can pay for your treatment online with various payment methods enclosed in the app. This will confirm your status and ensure you send a message.
Digital Prescription & Health Records
No need to go to the medical store and get the prescriptions, the online specialist will give the online treatment by analyzing your medical record. Get the correct dosage according to your health issue. It also reduces human error in giving wrong medicines and is useful for patients who are not able to go to hospitals and are capable of taking the treatment.
User Dashboard
The user dashboard creates a great user experience. Depending on the purpose of the healthcare app, it provides all the information that patients and doctors are looking for. It ensures all the essential updates on the dashboard to know more about health.
Third-Party Integrations
Advanced healthcare apps come with a feature that allows users to control their data and maintain it conveniently. API used in the medical industry helps to store critical documents. This will help you sync data as well as improve the overall structure of the app and take them to the next level.
smartData is a top leading software organization that offers smart healthcare services to users worldwide. We provide various healthcare apps like a fitness app, women's wellness app, ajivar app, AI IoT wellness app, and many more. Patients can also schedule appointments online, make reservations, and access their medical records.
Wrap Up
The healthcare mobile app development company is enclosed with various advanced technologies that ensure proper treatment and help users to track their health data at regular intervals. Creating a healthcare app is a worthwhile idea. Well, it is somehow difficult to provide facilities to patients at their own convenience but many healthcare industries prove it true. Its advanced features and new methodologies allow the medical industry to connect with more customers and treat serious health problems. Go with the latest technologies that promote healthcare apps and alter the way of living.