Wishing a very happy Diwali to all of you!
Once again the festive season begins! We are here with another write-up for the Diwali Mela celebration that brings a lot of happiness in the life of many others where happiness is really hard.
Let's celebrate the festival in the true sense by spreading joy and lighting up the world of others. With the shining of diyas and the echoes of the chants, may the prosperity and happiness of this festival of lights fill our lives.
Celebration is a culture at smartData and we believe in sharing happiness and following traditional values that are enrooted in every smarTian. The feeling worth sharing is one that of unity, harmony and affection that all employees feel for each other. Like every year, smarTians geared up themself to celebrate this day. The entire team enjoyed the day with lots of fun and fabulous things. It was overwhelming to see all employees dressed in ethnic attires that represent our customs and culture. We started our day with chaos and a lot of excitement.
Each employee brimming with happiness and preparing themselves for the Diwali Mela celebrations that lay ahead during the day.
Dance Performance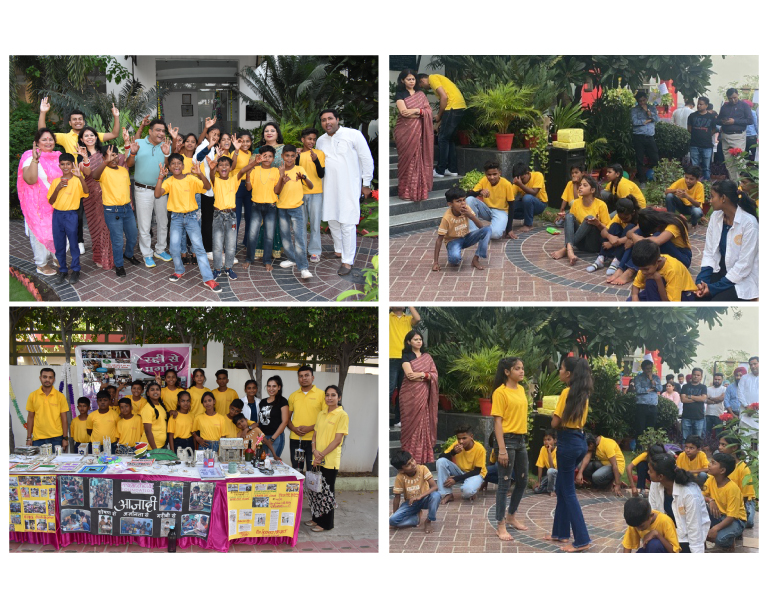 It was a day to gear up with celebrations and feel the sparks of the festive times. We always put our best foot forward to make society a better place to live for all. The day started with an overwhelming performance by Prasanchetas Foundation. The kids have done an amazing job by performing Nukkad Natak related to various taboos on menstruation backed up and another amazing dance performance on Women empowerment.
Ethnic Elegance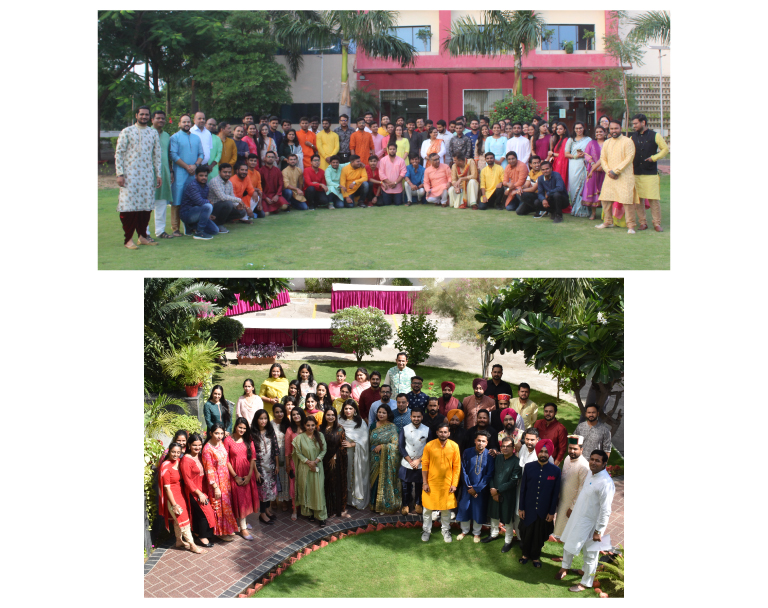 Ethnic wear is an integral part of any Indian during the festivals. smartData gives an initiative to every smarTian to wear colourful ethnic dresses that make the day more heroic and exciting. There is great competition between each employee on representing their dresses with best attires. The one who is dressed in proper ethnic wear is awarded with gift hampers.
Rangoli Competition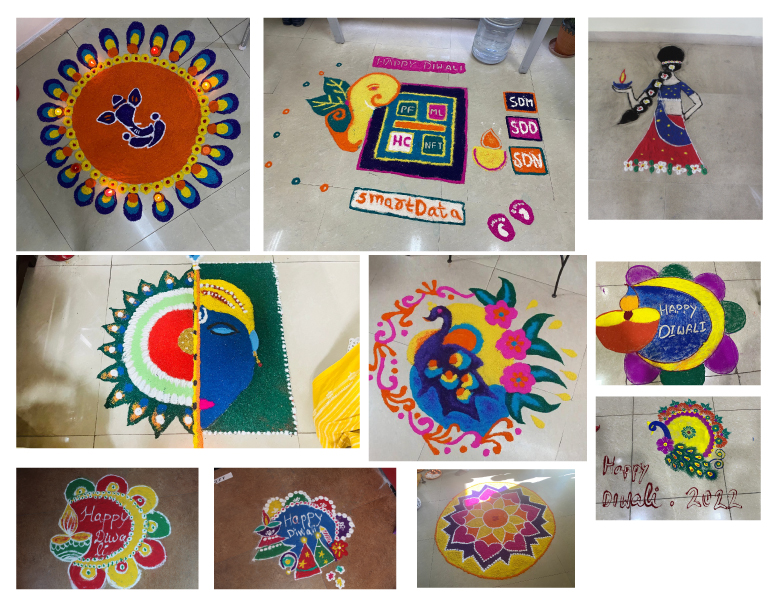 We celebrated the festival of lights with style and power of innovation. It's a time when every smarTians get an opportunity to represent the traditional folk art adorned with floors during the festive season. The rangoli insights begin with full excitement and joy. Our smartData team did a great job of spreading the social message and innovative ideas that make their art more lucrative and over to the top.
Fun-Filled Games & Activities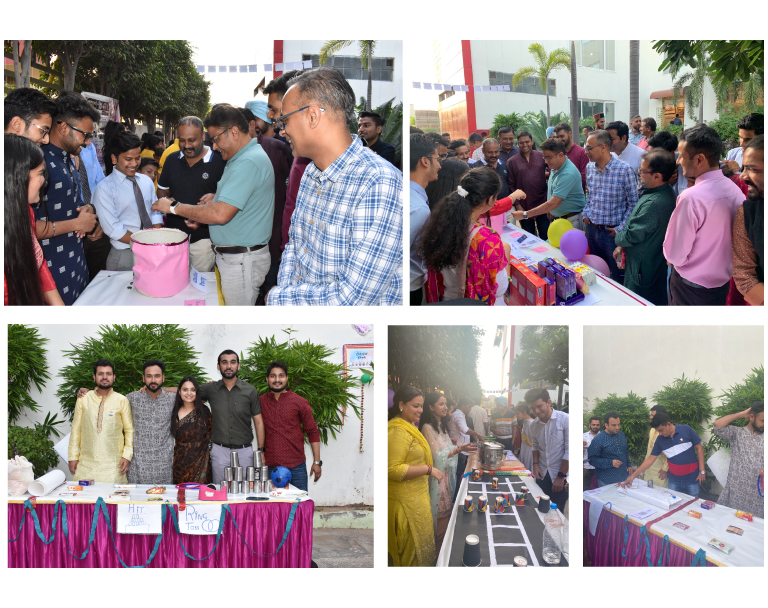 Collective celebrations reunite employees together and create a more inclusive environment across departments. This festive season boosts the morale of employees, promotes employee engagement and nurtures team spirit to spread joy and happiness.
Diwali is a perfect time to put your most creative foot forward. We started the day with various fun games and activities that give new enlightenment to the day. Every smarTians feels excited to be the part of game event.
There are six groups of games i.e smarTians Gaming Adda, Young Brigade, Colourful clouds, The Chirags , smash and Beniwal game empire. Each group come forward with very interesting games that make the day really happy and enjoyable. To make the boring work schedule an interesting one for employees, this gives an exclusive opportunity for smarTians to come out of the crowd and showcase their talent by playing exciting games.
The kids from Prasanchetas Foundation also displayed their creative skills in form of home decor and stationery products made from waste under the project Raddisepragati . Beyond everything, the good factor which the kids experienced is the immense love and care showered by the CEO which is a great pleasure for them.
Stalls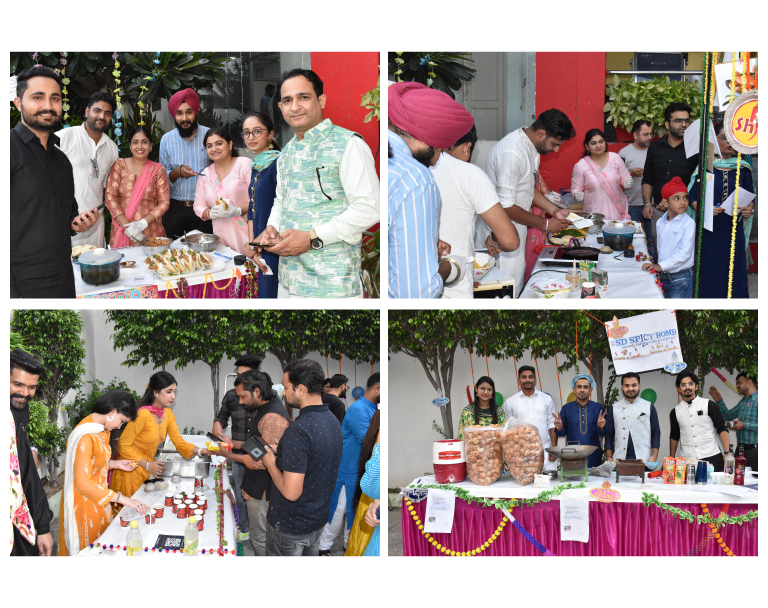 This festive season is incomplete without delicious food and positive vibes. SmartData always took an initiative for their employees to be healthy and fit. We celebrated this day with good food and love that brings a fruitful experience for our employees. Our team represent their innovative talent by making their favourite dishes and representing them in front of people to taste and enjoy the meal. This is a great moment for smarData to showcase the talent of their employees by making healthy food and dishes.
The day ended on a happy and blissful note. Everyone enjoyed a lot with full thrill and excitement. The entire team of smartData make this fantastic celebration memorable for everyone with their courteous gratitude and deeds. May the charm of Diwali fill all our home with happiness and the coming years provides us with all that brings us joy, victory, fulfilment and success.