Healthcare pharmacies are playing a significant role by getting themselves aligned with changing Healthcare needs and market trends. For providing the best treatment and outcome, it is very important for patients to receive good quality medication and receive it on time. The introduction of artificial intelligence into the development of new drugs has also played a very important role and will be the further growth path of the new drug development strategies.
There are various areas where the Pharmacy industry has changed itself and helped in maintaining an excellent healthcare system.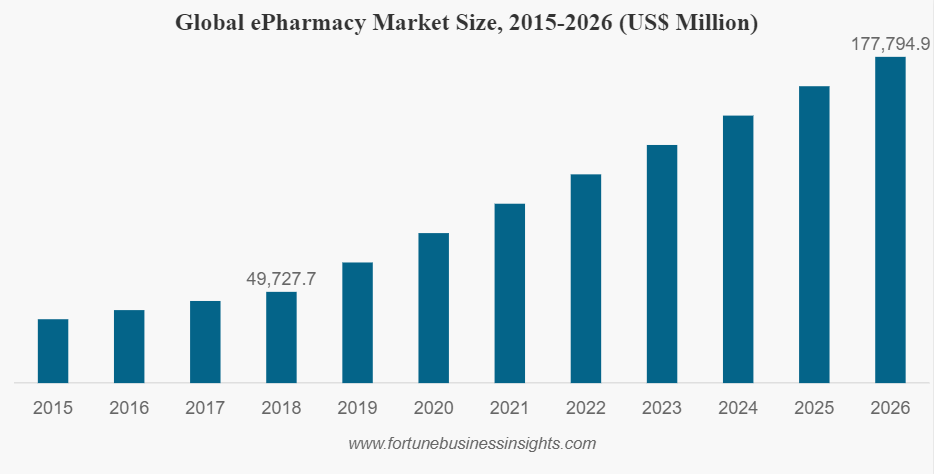 Virtual healthcare
As people now understand the importance of remote consultation and an online pharmacy as they don't have to put themselves at risk by going out, save time, avoid traveling stress and keep track of purchases, virtual healthcare is expected to be one of the most significant pharmacies trends moving forward. The pharmaceuticals industry will see an increase in the use of e-commerce and mobile channels for marketing, and the competition will definitely be stiff. Virtual healthcare also transcends in other services too like online prescriptions, patient portals, and even delivery services that will be the future of purchasing medications.
Pharmacy Management System
The pharmacy management system (PMS) is expected to grow by 10.73% during the period of 2021 to 2026. PMS helps in streamlining the workflow and helps in providing personalized, professional, and quality care to the patients. There is a constant increase in prescriptions and as this number increases it also puts a load on these Pharmacy management systems hence it's very important that these systems should be easily scaled up as market need increases.
PMS take care of all major elements like Inventory management, Purchase Orders, Supply chain management, follow compliance and regulations, and provide measurable data in the form of dashboard and reports to administrators so they can easily take decisions and notice any flaw. They can also follow Interoperability and connect with EHRs and other applications for sharing patient data securely.
Approval of New Drugs
Development and approval of the new drugs is always a challenging job, there are a lot of steps like Discovery and Development, Preclinical Research, Clinical Trials, Drug review, and Postmarket drug monitoring to measure side effects and outcomes. The real problem is this process is sometimes very long and sometimes doesn't have enough patients to register for the clinical trials. During this pandemic, we all have noticed that getting medicine timely and sometimes in huge quantities is very important as there is no alternative to it.
Researchers are now taking advantage of new technology to overcome these problems and providing new drugs on time, they are utilizing artificial intelligence and data analytics to speed up clinical trials and other processes which were a challenge earlier.
Artificial intelligence
Artificial Intelligence & machine learning has played a significant role in the Pharmaceutical industry growth, they have helped in various areas like Clinical Trials, Disease Identification/Diagnosis, Digital Therapeutics, and Personalized Treatment, Drug Discovery and Manufacturing, Predictive Forecasting, and some others like in supply chain management, customer feedback/service, and others.
We have already seen the important role AI/ML has played during this pandemic, driven by COVID and the race to discover effective vaccines. Apart from Artificial Intelligence, there are other technologies too which have helped in the growth of Pharmaceutical industries like big data, mHealth, Robotics, IoT, AR, and VR, etc.
E-Prescribing
Handwritten prescriptions can result in high medical errors, these errors can become very dangerous for patients sometimes. Around 440,000 deaths happen every year due to prescription errors. Now, most of the clinical, Telehealth, and other applications where physicians prescribe medications are using electronic prescriptions. It's very easy to use and have various advantages like:
Instant Notifications for Drug-drug interaction, Allergies, a delicacy in drugs
Avoid Prescription errors
Easily Prescribe Controlled Substances
Quick access to medical history
Prescription fulfillment tracking
Spend less time on refill requests and searching for prescriptions
Less time in order verification from Pharmacy end
Easily manage through Insurance
Improve medical adherence
Increase patient safety and reduce readmissions
At smartData we have done extensive work in this field and developed applications for Clinical Trails helping in new drug development and utilizing Artificial Intelligence/Machine learning, electronic prescription(eRX), Pharmacy Management Applications(PMS), Medication Therapy Management(MTM), Virtual Healthcare, EHR Integrations, Medical Adherence, and many other applications.
Know more about our healthcare offering at click here