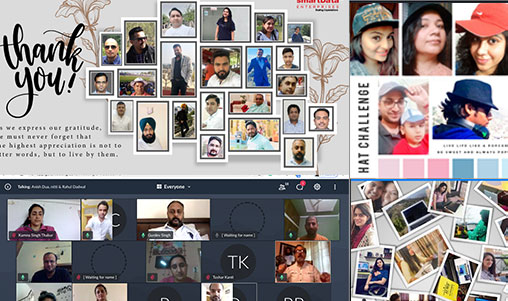 Employee Engagement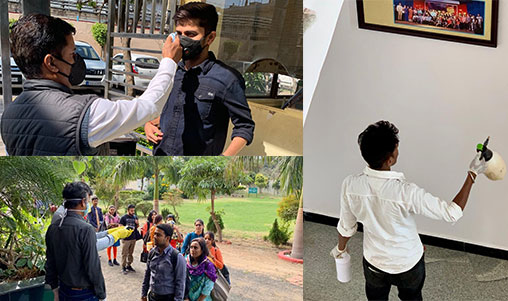 Employee Safety
The coronavirus pandemic continues to present an unparalleled challenge to life and businesses, resulting in our management being proactively involved in making strategic timely moves to mitigate business contingencies under the Business Continuity Process (BCP) plan. This being done through 4 major focus areas:-
Business continuity through WFH: The situation was correctly prompted resulting in partial WFH from the first week of March 2020 and culminating into 100% WFH from March 20th. The business was as usual for customers through effective use of Enterprise VPN – while ensuring that all security parameters are in place as per our ISO 27001 accreditation. Additional onsite assistance (curfew passes being procured) being regularly provided by our emergency support deputed Information system who visits our facilities on need basis for support and maintenance. Regular interaction with customers and business continuity are being looked after by the engineering and business development teams and as needed direct involvement of the CEO office is insuring.
Employee safety & Engagement: Correct and timely steps were taken for social distancing via alternate seating, partial WFH with flexible hours, sanitization arrangements, and temperature checks at the entrances. Overseas travelers were asked to be in self-quarantine for 2 weeks minimum. Post lockdown- the biggest challenge of heightened anxiety was handled tactically via mass remote counseling drive conducted by our large fantastic HR team. This includes face to face sessions, video conferencing, health-related surveys, social media based competitive games, and fun hours on official communication tools to help purge the anxieties. Regular online sessions by internal speakers and international motivational speakers are being conducted.
Community: As part of our engrained philosophy of #CFG, this period will be remembered for our camaraderie which is reflected by our collective benevolent acts towards our community. As an Organization, we have contributed INR 5 Lakhs towards #PM Care fund in month of March & in April entire workforce agreed to donate their one day salary towards #PM care fund to help Govt of India fight the pandemic at the national level. Complying with 100% govt instructions and being a law-abiding citizen is something we all are proud of in this moment of crisis – handling both work and social front bravely.
Management: Proactive management with a resolute commitment towards the welfare of smarTians first and then business has resulted in smartData sailing through a pandemic of unbelievable magnitude successfully. Extending the lockdown for the Org to May 3rd one week before the government announcement, 100% WFH before the national lockdown, allowing people to move to their hometown, ensuring continued support and motivation via social media posts, email messages etches the tradition of #Big Thinking, #Big Collaboration and #Big Communication. Covid19 has added a new dimension to it in terms of #1healthyworld.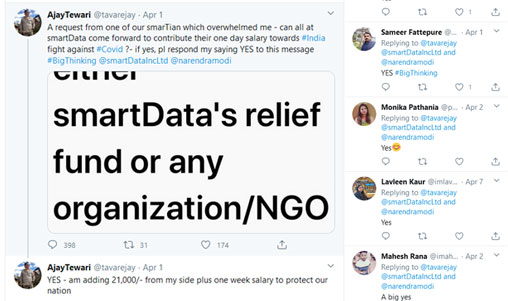 Community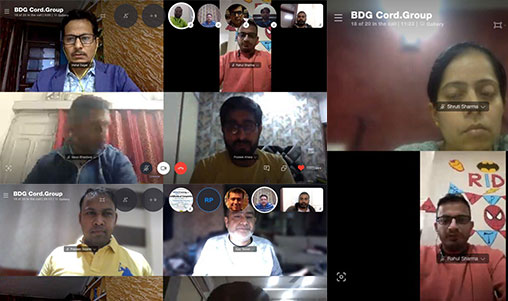 Business Continuity