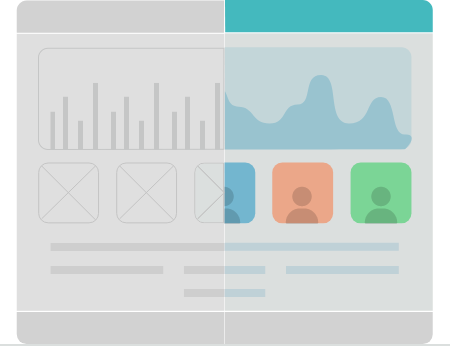 While visual impact has the strongest tool to hit the customers' mind, portraying a unique Wireframe Prototype design can help laying out the foundation of your business potential.
Our entire team at smartData helps you layout a typical webpage which demonstrates interface elements that will become the key pages on the website. We work with a cardinal aim to provide a visual understanding of a webpage during the early stages of the project while ensuring that the client's specifications are implemented properly in the initial phase to avoid issues later.
While a wireframe and prototyping design are quite easier to adapt as compared to concept design the right iteration to the wireframes helps you reach the idea of the final design much faster whilst properly catering the needs of users and fulfilling the key business objectives of clients efficiently.
We at smartData offer:
Prototyping Web Design Services
Website Redesigning Services
Landing Page Wireframes Design
Web App Wireframes Design
Email Template Wireframes Design
Desktop App Wireframes Design