5G is a next-generation mobile network that enables high-speed data transmission with ultra-low latency, increasing global connection and enabling new technological breakthroughs in every industry.
5G will have a huge influence on businesses because of its fast data speed and excellent network dependability. The advantages of 5G will improve corporate productivity while also providing people with faster access to more information. Some organizations, depending on their sector, can take full use of 5G capabilities, particularly those that require the high speed, low latency, and network capacity that 5G is meant to provide.
Smart factories, for example, may utilize 5G to operate industrial Ethernet to boost operational productivity and precision. 5G is a more capable and unified air interface. It has been built with increased capacity to support next-generation user experiences, new deployment methods, and service delivery. 5G will take the mobile ecosystem to new heights with its fast speeds, high dependability, and low latency. Every industry will be affected by 5G, which will make safer transportation, remote healthcare, precise agriculture, digital logistics, and more.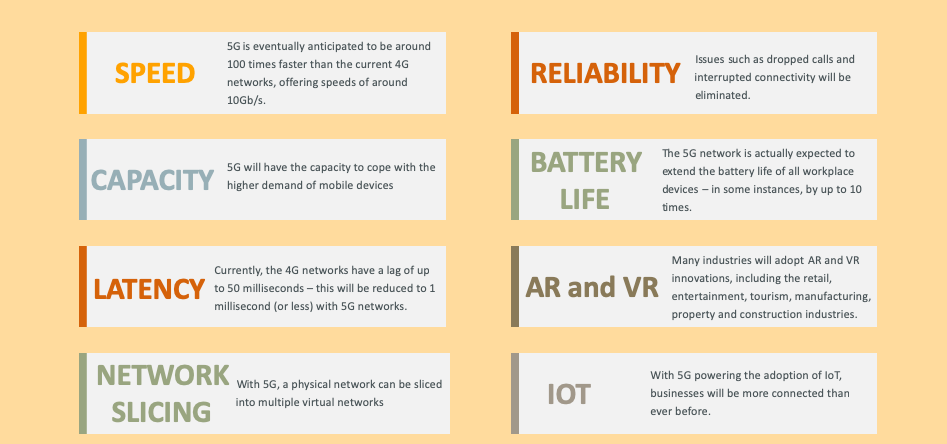 5G mobile technology can bring in new immersive experiences like VR and AR with faster, more consistent data rates, reduced latency, and cheaper cost-per-bit, in addition to making our devices better.


With ultra-reliable, accessible, low-latency connectivity, 5G can allow new services that can change sectors, such as remote control of key infrastructure, cars, and medical operations.


5G is designed to link a huge number of embedded sensors in almost anything by allowing data speeds, power, and mobility to be scaled down, resulting in incredibly lean and low-cost connectivity.