The IT (Information Technology) market has experienced significant growth and transformation in recent years, becoming a cornerstone of the global economy. From the advent of cloud computing and artificial intelligence to the rapid expansion of mobile technology and cybersecurity concerns, the IT market has become increasingly dynamic and complex.
The COVID-19 pandemic further accelerated the adoption of digital solutions, as remote work, online collaboration, and e-commerce became essential for continuity. Businesses of all sizes are embracing digital transformation, seeking to leverage technology to improve efficiency, drive innovation, and enhance customer experiences.
Our report showcases the current market size, highlighting the benefits organization gain as well as the layoffs in the top and start-up companies to improve agility, cost-effectiveness, and streamlined infrastructure.
Market Size
According to the latest forecast by Garnier, Inc. worldwide IT spending is projected to total $4.6 trillion in 2023, an increase of 5.5% from 2022. The software segment will see double digital growth this year and the device segment will decline nearly 5% in 2023. Out of $4.6 billion, spending on new technologies is expected to hit $1.36 trillion in 2023, adding nearly 30% to the expected spending on traditional items.
In India, IT spending is expected to increase to $101.8 billion in 2022 and found $108.5 billion in 2023. The report claimed that the growth is going on increasing with time and is expected to grow to $19.93 billion by 2025.
Indian companies are focusing on investing internationally to expand their global footprint and modify their delivery centres globally. Cloud utilization can provide employment opportunities to 14 million people and add $380 billion to India's GDP. As per the survey, AWS (Amazon web services) in India have nine times more digitally skilled workers by 2025.
2023 layoffs: Job cuts in Top companies
The year 2023 has witnessed significant job cuts in top companies across various industries, creating a ripple effect throughout the global workforce. As organizations grapple with economic uncertainties, they have been forced to make difficult decisions regarding their workforce.
Our report sheds light on the reasons behind these layoffs and their implications for employees, industries, and economies.
Amazon is going to lay off 9000 workers which marked a significant workforce reduction within the company. The Chief executive officer CEO Andy Jassy declared the cutbacks and this would impact Amazon web services, advertising, human resources and Twitch live broadcasting service communities.
The latest report has suggested that tech giant Microsoft 2023 is on the way and may start sooner than we think. They are expected to cut around 11,000 jobs, which amounts to around 5% of the workforce being hired. As per reported by Bloomberg, the engineering department and human resource department are impacted the most due to frequent layoffs in Microsoft.
Accenture reported 19,000 job losses in an SEC filing. The only motive is to reduce the expenses and in the long run benefit business
As per Free Press journal, Infosy's total employee strength decline to 343,234 by the end of the fiscal. This is the first time since covid- hit the quarter of FY21, infosys is ending the quarter with few employees. They witness a 40 % plus fall in net hiring during the fiscal year 2023.
In January, Google CEO Sundar Pichai announced that it was cutting 12000 jobs but did not directly address the prospects. Although speculation about the layoffs had swirled for months as employees were in shock for some time.
IBM announced that it was letting go of 3900 employees as they failed to meet the desired target set by the company. The decision was still taken instead the company reported solid growth.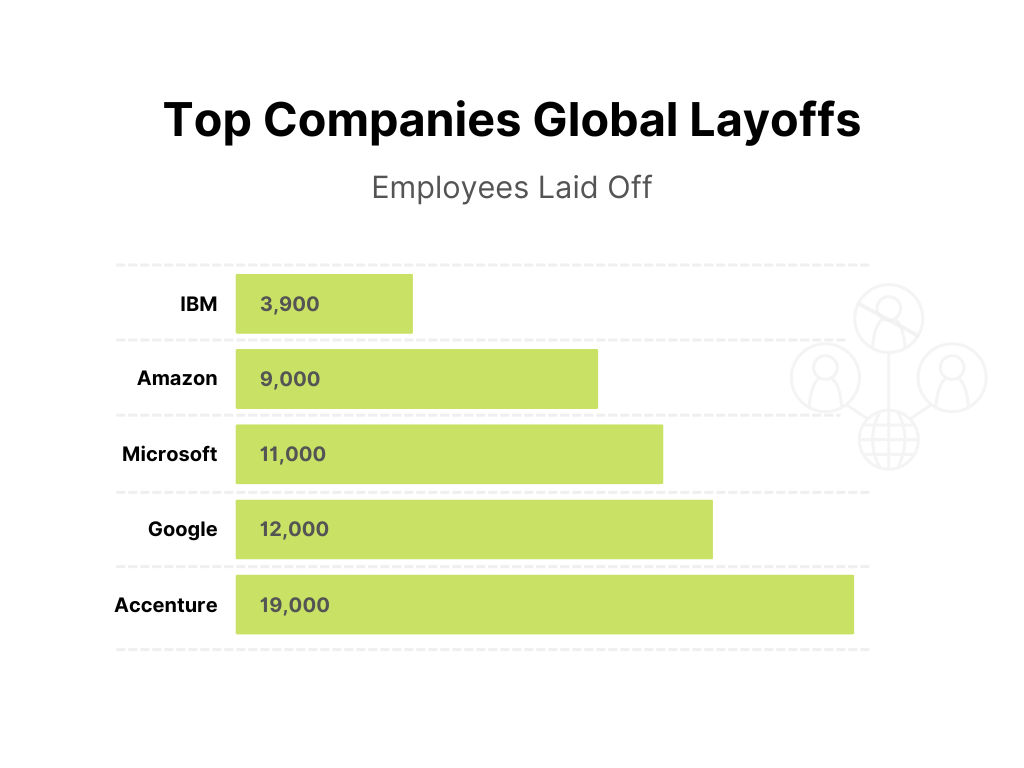 StartUp Cutoffs
As per the report, Many startup companies like Edtech firms Byju's, Unacademy, social media firm ShareChat, apartment-management startup MyGate and car-servicing startup GoMechanic were among the companies that fired a significant chunk of their team.
They laid off about 9,400 employees on Jan – march period which is a huge number. About 70 % of the startups laid off 100 – 300 people each in the quarter among which hiring in senior roles also dropped 80 % in March.
This trend was also visible in fintech, e-commerce, edtech, SaaS and health among others. Among these sectors, Ecommerce & edtech was down 93% as compared with the period last year.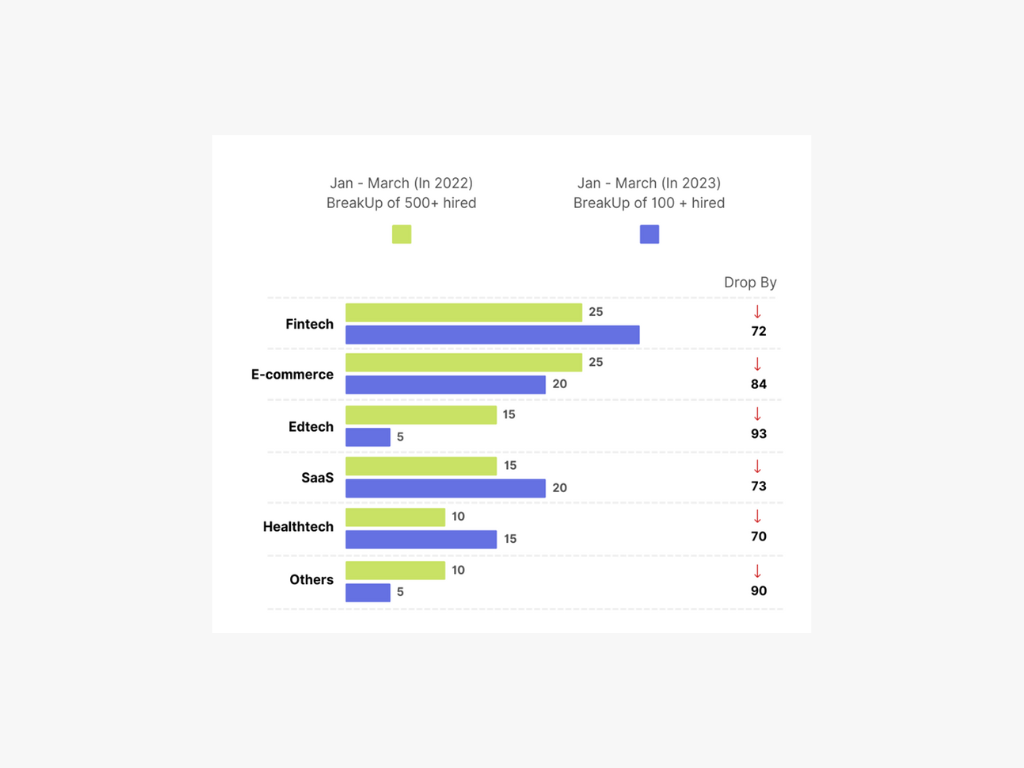 There is no sign of easing in the hiring process. 'Layoffs may continue and at places where you may not see layoffs, you will see muted (pay) hikes' said Ashish Dave, CEO of Mirae Asset Venture Investment in India.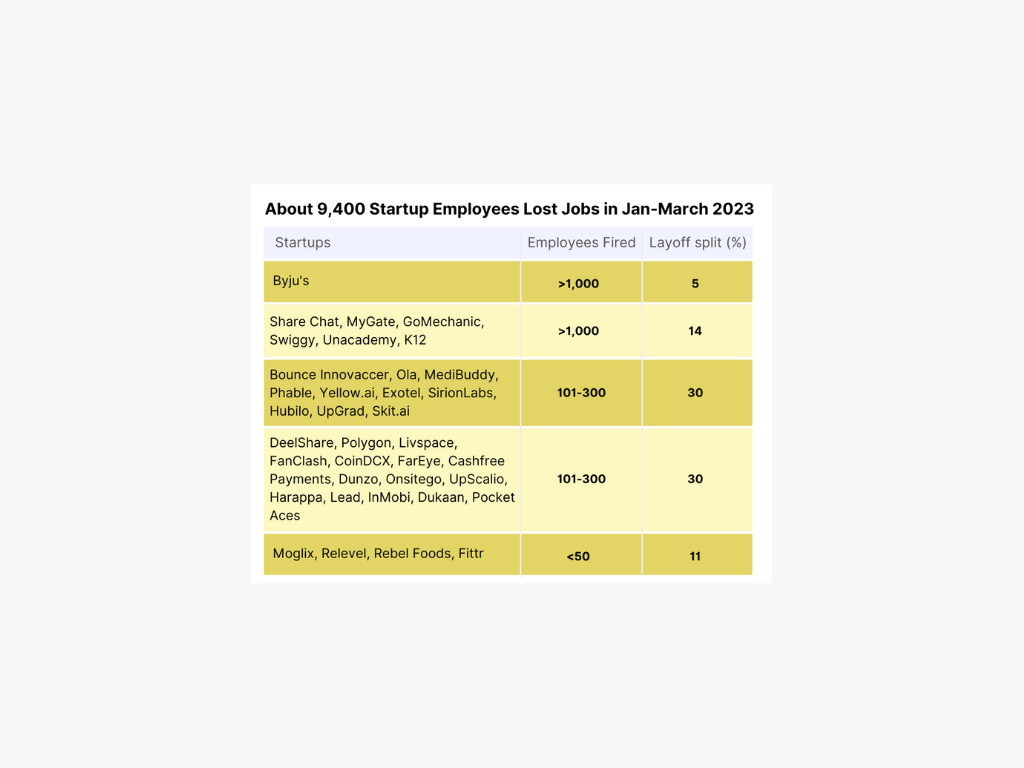 As per funding, About $ 3.4 billion was raised, a decline of 71.6% by value. Of these, 110 deals amounting to about $14 million were seed stage, 41 were pre-series to $163 million and 24 were late stage amounting to $2.1 billion. According to the report estimation, growth-stage fundraising was led by the e-commerce industry, whereas late-stage fintech startups received the most funding. Enterprise tech took the top spot in both bridge and seed-stage funding rounds in terms of investment amount and deal volume.
Key Trends & Drivers of the IT Market Industry/ Key Technology Trends
It is estimated that 70 % of companies will employ hybrid or multi-cloud management technologies.
At the same time, 5G will deliver network speeds that are about 10 times faster than the current speed on 4G networks.
This is also reported that by 2024, more than 50 % of user touches will be augmented by AI-driven speech as well as computer vision algorithms.
Global data creation is projected to grow by more than 180 zettabytes by 2025 and 64.2 zettabytes by 2020 which is a big achievement for the IT industry.
The emergence of the cloud and 5G exponentially increases computer power and networking speed enabling greater innovation.
Development in the metaverse of augmented & virtual reality opens the doors to virtual R&D via digital twins.
AI will become more prevalent with natural language processing and machine learning advancements.
As critical data is now stored on cloud platforms, More businesses are putting money into cybersecurity as it became a more important asset in the coming year.
New Challenges and Opportunities in the IT Industry
Our report will help you examine some of the key challenges that IT leaders address are the biggest issues they expected to face in the year ahead.
'Inflation is the major issue for CIOs both in direct costs and labor' Reeher says. As an industry, we have set a bad precedent. When employees want a rise, they change jobs. This is a factor of concern for IT leaders. The inflation rate should be more appropriate for your best employees to be poached.
Talent recruitment is challenging every year. As said by chief executive Elon Musk, the company can make no hirings unless his personal approval. We are in the midst of a competitive market, and it's quite freaking to keep staff engaged by ensuring a sense of community with their peers.
Diversity is a big issue in the IT industry as more diverse teams produce better outcomes. For some organizations, establishing new relationships can help. A mix of different IT workers remains challenging.
Security responsibility is falling on the shoulders of CIO's so they should continue to look for ways to raise the security posture of their employees. 'Don't just focus on security personnel and tools; focus on the low-hanging fruit that can solve larger security issues, such as providing rigorous and ongoing security awareness to your entire organization' Mead says.
Managers can help by setting expectations for stressed-out IT staff who need downtime, says Cassandra Brown. Increased stress on IT teams began during the pandemic and continues today due to the increased IT demands of their remote colleagues. Managers should impose some stress-free time and encourage meeting-free days to take care of their well-being.
Current Bank Failures
It's never good news when we hear about bank failure. In the coming year, 3 prominent big banks collapsed. These failures have a big impact on customers, employees and the economy as a whole.
According to the reports, the top reason for bank failure is due to their exposure to the cryptocurrency market. Several large banks gained market exposure to cryptocurrency among which Silicon Valley Bank, signature bank and silvergate bank collapsed in March 2023.
Another prominent bank in US i.e. First republic bank was closed by the California Department which appointed FDIC as a receiver. It failed due to its susceptibility to sudden interest rate increases and withdrawal of deposits from fearful clients.
| | | |
| --- | --- | --- |
| Bank Name | City | Closing Date |
| First Republic Bank | San Francisco | May 1, 2023 |
| Signature Bank | New York | March 12, 2023 |
| Silicon Valley Bank | Santa Clara | March 10, 2023 |
Signature Bank is a victim of the panic around Silicon Valley Bank, which regulators seized on March 10. Its closing underscores the challenges that face small and midsize banks. With assets of under $100 billion, is a blow to many professional services firms that rely on it.
Silicon Valley bank, lender to startups. After some ill-timed financial decisions left it struggling to meet customer withdrawal requests. The reason for the downfall is a lack of diversification and a classic bank run, where many customers withdrew their deposits simultaneously due to fear of bank solvency. Most of SVB's depositors were startup companies as they took large amounts of cash from investors because the technology was in high demand during the pandemic.
Latest Market Highlights
The current IT market reported that Tesla chief executive Elon Musk said 'the company can make no hirings unless he personally approves them including contractors'.

As reported, amazon once again take off their layoff process. Around 500 employees are fired in India across verticals. The process is ongoing and most people are familiar with the matter that they are laid off from web services, human resources and support departments.

Google is ending up their business with contracting firms including Cognizant and Accenture which employ workers who support various YouTube services. It's unclear exactly how many cognizant workers were affected but Accenture lost 120 to 150 workers.

According to the report, cloud major Oracle laid off more than 3,000 employees at the electronic healthcare database firm. They paused raises and promotions earlier this year and announced that workers should not expect any leniency through 2023. Layoffs affected workers across teams including marketing, engineering, accounting and product.

As per the report, this year 2023 has become the worst year for tech employees from big firms to startups. Many other companies like Meta, BT, and Vodafone have plans to lay off more employees in the coming months. Almost 2 lakh technology employees lose jobs in 2023 to date and many more are in the offering.
About smartData
With our expertise in crafting innovative software applications, we empower businesses to thrive in the digital age. Whether you are a startup or an established enterprise, our experienced team deliver exceptional results using cutting-edge technologies.
With 25+ years of incredible performance & experience, we have developed 8000+ projects for web & mobile applications ensuring seamless performance and user interfaces. As a trusted software development company, we provide domain and technology consultation that helps business integrators to offer the best services to esteemed customers in less time.
We achieve excellence in providing reliable services related to healthcare, B2B, B2C, and B2B2C platforms. Also, have strong expertise in Microsoft, MEAN/MERN stack with mobility via native (iOS, Android, Tizen) or hybrid (React Native, Flutter, Ionic, Cordova, PhoneGap) and mobility stack mixed with AI & ML help to deliver ongoing needs of customers.
To develop reliable software solutions for business, connect with our team and get the services in a single go.
Conclusion
It is not the strongest nor the fastest that survives, but the most adaptable one. Businesses that show resilience during their bumpy times will grow rapidly, hold into margins and retain competitive advantage. Our report covers all the major things that help you to examine the overall It market situation in 2023.