Social media is a big platform that exposes you to market needs and keeps you connected with the latest services gaining heights. Customers connect themselves with websites when they want to make big purchases online. They learn more about the products to get complete knowledge about them. A good website is key for the company to gain credibility and get users with the right information. So, let's understand the websites more.
There are two types of websites, i.e., custom and template. When it's time to choose from two, the answer is obvious: custom-design websites. This is a great choice for your business and gives you a platform to redesign your website in any way. To reshape the websites, you need web design services to your preference.
It will influence your search engine optimization index and make sure that you should choose a custom website design company that is experienced to get the best results for your business. Here we will discuss the best strategies to find extraordinary website development services and get a proper customized solution to grow the organization.
Custom Web Design Tips
It will make your website easy to navigate and allow customers to get whatever they want. The links will be easy to understand and will take less time to process. The content of the text is easy to read due to its extraordinary features that make it different from other applications. You need not have to browse the entire site to get the stuff you want.
The custom designs will make your websites memorable. Choose a domain name that is easy to read and understand to attract customers to the content and get the services they need. Choosing a highly complicated domain name will make it hard for the users to understand, and there will be low performance and ranking.
The information shared on the website should be updated, and new stuff should be added regularly so the website will be highly responsive to users. Also, add a column or space for the comments so that customers can add their problems and give suggestions according to the application.
Why Business Needs Custom Design Websites
It involves a process of understanding the needs and requirements of a business. Custom Website development makes it easy for customers to communicate and make them more user responsive. Social media makes websites more acceptable globally, and consumers can reach out easily and ask questions.
Having a custom website design makes you different from other companies as it comes with a unique layout and keeps your business standing in the crowd. It will create a better impression and allows you to connect with more clients online with a single click.
The unattractive website will automatically stand to lose because it does not create a good impression on the customers. Via custom design websites, it will give a new position to your company's brand and have a better chance of appearing in google searches.
The value of custom design websites is more workable than other sites because it is easy to work with, and updates can be done quickly, as per your perspective. They are responsive among several devices and are considered a professional choice for your business.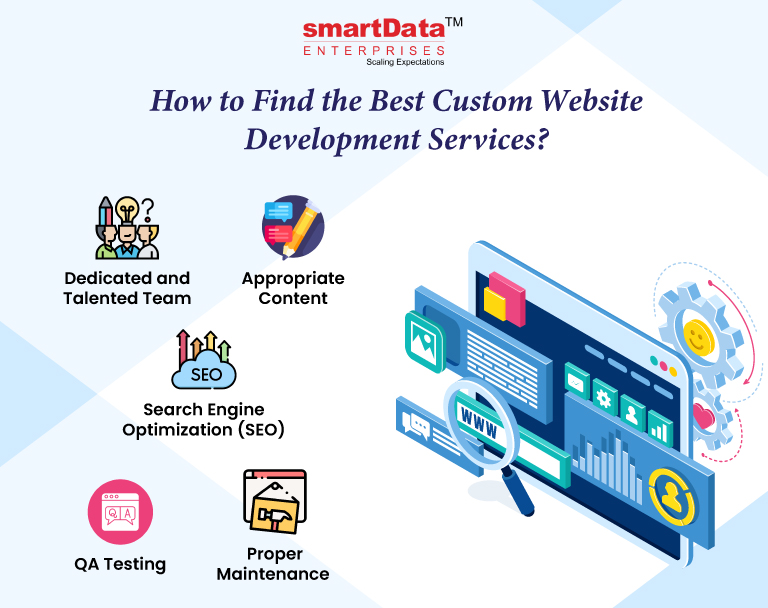 How to Find the Best Custom Website Development Services?
There are a large number of websites available in the market. Choosing the right one that meets your company's goals is customizing your website. Go with better custom development options to gain a better online image and make your app user responsive. This will make your website unique and also make it a high-ranking website globally.
Choosing the top custom web development companies is difficult. You have to go with precise research and analyze the major points necessary to look for custom web services. To choose the best, stay connected with this article and get to know more about the best ways.
Dedicated and Talented Team
This is an important step in the field of developing custom web development services. It is not a single-person task as you require a fully dedicated team that is keen to learn the strategies. Custom Web development starts with a plan like how it looks, its design, framework, functionality, testing, finding bugs and many more. Each task needs a team of professionals who can manage every level appropriately and eliminate all the errors and flaws.
Appropriate Content
Once the design and layout are decided, the next game changer is the content that should be fresh and unique. It plays a major role in every website, whether it is eCommerce or sales. So, go with the top content writers to deliver the content organically and plagiarism free. To make the content different from other sites, it should be written professionally and meet the user's needs.
Search Engine Optimization (SEO)
The next task is SEO. When you write the content for your website, the ranking and the performance all depend on the SEO performed on it. Both are interconnected to each other and play a major role in your current website. If you have a good budget, hire an SEO team that will be helpful for your website to have a good ranking and make it top on the search engine.
QA Testing
Many web applications go with this process once the whole development is completed. There are various security measures that should be taken to create user-responsive websites. This is necessary to prevent your app from attackers and avoid long-term issues that will be highly effective for your organization.
Proper Maintenance
When the website is developed and grown, it should be updated from time to time to make it more attractive and user responsive. Most custom web development services offer full support whenever there are any problems or errors. Update the website and add new content to make it on the top and keep it more attractive to users.
smartData has developed 5000+ cloud-based platforms and 1000 plus premise applications for startups and SMEs. Our full-stack developers' expertise in SaaS & PaaS-based applications like travel portals & booking engines etc. For the food tech industry, apps cover features for restaurant ordering, menu optimization delivery, online payments, and time-saving search.
For AI-powered mobile apps, chatbots and IoT applications for transportation, AI/ML, fitness, and wearables apps. We start with MVP development so that customers get their products tested by real-time users and get valuable feedback.
Wrap Up
Custom web design is in great demand all over the world. You should select the best custom website developers for your project. It is an alternative to generating a new website with a creative layout. You can use frontend and backend technology to make your site unique, scalable and mobile-friendly. Adopt the best ways that will be directly suited to your specific business requirements. We are here with the topmost customized solution to create websites that are user-friendly and reliable for various platforms.