In today's competitive market, buying a property is not that simple. No matter the unit size or building, it is a fierce commitment to real estate investors. Most of the time, we are unsure about the property and want a perfect guide to keep us aware of the terms and the policies.Real estate software solutions enable builders and developers to deliver consistent and best services to their buyers and agents by managing your customer expectations and meeting them in a moving target. Real estate development software is designed to streamline the process and bring together all the critical business elements.
Modern real estate solutions are capable enough to ensure customer interactivity with clients. It also provides an opportunity to instantly get the answers to queries to resolve them effectively with proper solutions.
In this article, we will clear out everything you need to know about property management and how it relates to your real estate business.
Property Management Software
Property Management Software (PMS) is an efficient solution that optimizes business processes for enhanced performance and transparency. It has full capabilities to automate the marketing and sales process. In addition, its built-in features like event management, reporting, analytics and much more help gain full insight into the real estate business. It will enhance your customer experience by keeping them up to date with the latest trends and technologies. With this solution, developers, as well as builders, can view all the information that is needed to maximize customer satisfaction.
Need for a Real Estate Solution
This is a leading solution that helps real estate professionals to come out with the best ways that will be helpful for the growth of the business. It also gives the clients a proper eye on their property with a better approach.
Sometimes, collecting the rental data from the number of individuals is difficult, and it becomes complicated to finish the task on time. The software solutions allow managers to enhance their innovative thoughts into real ones and optimize the performance of their portfolios. The buyers come out with reliable ways that help them to minimize proper maintenance.


Tenants face many issues related to the property, like maintenance, building changes and many more. This software provides a tenant portal to resolve problems by managers or property owners. This is an amazing way to come forward and place your questions in case you face any problems.


Whenever the property owners and managers want to handle short or long-term rentals, student homes, luxury apartments etc. The real-time estate solutions will streamline or enhance the processes to monitor the properties conveniently.


Benefits of Real-Time Estate Software Solutions
Suppose you are still wondering About getting the right approach to your property management. Here we will understand some main features of property management software, so look at them.
Customer Loyalty
If your customer is expecting to have complete information with appropriate data or thinking to enhance their business to the next stage. You can incorporate property management software with chatbots and other extraordinary features that make your clients feel valued and appreciated. In addition, the innovation of multiple languages encapsulated in the software ensures a strong customer relationship.
Proper Reporting
With reliable software solutions, reports will give meaningful information related to the company cost, tax and payment. Moreover, the data will be proper and accurate according to the needs of the Organization. This will improve the customer's centricity and keep them conected with their property needs and requirements.
Accurate data tracking
If you are planning to track the complete data of your house, the software comes with a data-tracking device to gather all the information related to the owner and the devices used in the house. It will be quite messy to get the data simultaneously from a couple of buildings. So, real estate software solutions will record the data automatically via sensors to get accurate results.
Easy Payments
There is no better option for tenants to make the payments while buying a property. Getting a medium makes the entire process simple and seamless. Online payments save your time on processing, spending and depositing money. When you have to pay the rent, the government will automatically deduct the money for further inconvenience. This benefit is helpful for both the tenants and landlords to resolve the conflicts related to payments.
Enhanced Transparency & Visibility
The real-time software solution provides proper access to your properties with precise & updated data as a result. As a result, you can make smarter decisions that will be productive for your Organisation's growth and boost your activities and finances. Furthermore, the data will not be leaked to other users, and transparency will be maintained to keep it confidential.
smartData provides a reliable platform for real estate marketplaces to manage existing properties better and do more precise purchase research. We provide an advanced real estate portal, DIY property buy-sell platform, online booking, hotel administration and management app to streamline their day-to-day activities.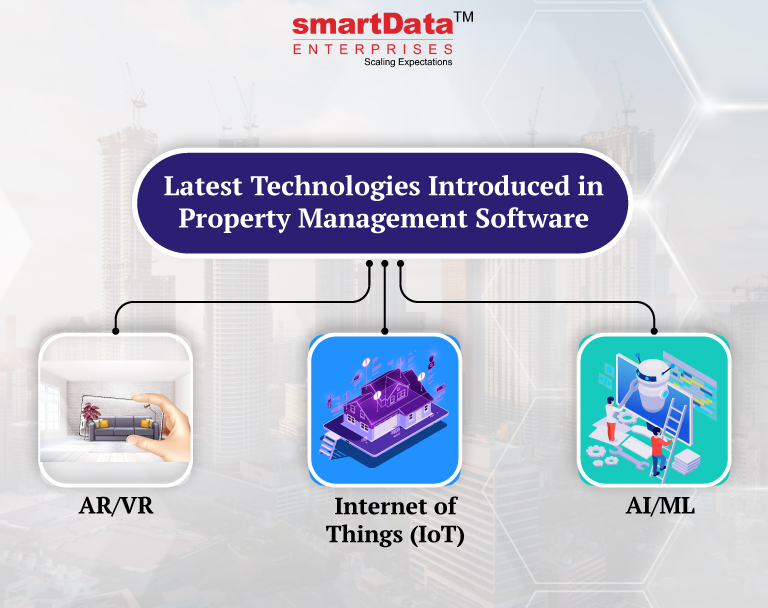 Latest Technologies Introduced in Property Management Software
New trends are coming into the market every year and change the way we build our software solutions. Here are some latest technologies becoming trendy with their powerful features in real estate.
Internet of Things (IoT)
This technology comes with inbuilt sensors that keep a constant eye on real estate software solutions. It is helpful for the maintenance and operation of portfolios to make them more accurate and precise. Most real estate app development companies provide scalable and cost-effective IoT development services that will be beneficial to form a better software solution.
AR/VR
This is said to be a next-generation technology in the real estate market. It allows property owners to have a tour digitally with the help of managers. Its 3D infographics help potential buyers use a mobile app or a web solution to have a complete view of their property. This tool is really a game changer in any real estate business.
AI/ML
With the help of artificial intelligence & machine learning, the data collected can be used to plan and give a detailed report of the analytics in the real estate business. The on-demand app development indulges this technology to boost its processes and get an amazing user experience. Developers can also add chatbots to their real estate websites to get an improved customer experience.
Our Organization contributes to PropTech growth drivers such as artificial intelligence, chatbots, virtual reality, big data, ConTech, IoT and beacons, fintech, SaaS and PaaS for customer-focused engagements with the real estate ecosystem.
Wrap Up
The real estate industry is gaining a massive shift with time. From finalizing property to delivering adequate services, it has streamlined every process digitally to ensure smooth functioning. Via property management software, real estate businesses manage their portfolio efficiently. There will be more security measures that enhance the communication between the owners, tenants as well as managers.
So, Adopt new and innovative ways to develop robust and secure PMS solutions. If you want to buy a property with proper knowledge and understanding, this article will definitely help you to achieve the goal of purchasing a property. We provide reliable services that allow buyers as well as owners to get the topmost solutions for real estate management.