Women are said to be the backbone of our economy and community. They play a vital role in every aspect and the world recognizes that women's rights are human rights. When it comes to women's health, there are numerous health ailments that affect women mentally as well as physically.
Nowadays, technology is evolving with new inventions that take amazing steps to balance our gender disparities. The latest one introduced is Femtech, this invention focuses explicitly on women's issues and major problems they are facing related to their reproductive health. Most of the time, they felt embarrassed while sharing their personal health issues with specialists. The Femtech platform encourages women to come over it and get vital solutions to their health problems.
This article is specially dedicated to all the women who are somehow facing some issues related to their reproductive health or other health problems. Let's give a quick start.
Current Analysis of Market
Femtech market gains a positive rise during covid 19 pandemic. Various diseases affected women's health during such a bad situation. During pregnancy, miscarriages and birth complication cases arise that lead to severe anxiety and hormonal imbalance. The market size will grow up to 22.8 billion in 2020 and go on to increase in the coming years. The maximum value is projected around 16.2% up to the year 2027.
Studies show that women represent 50 per cent of the whole human population and femtech is considered the fastest growing sector in the health and wellness industry. It is estimated that there are almost 800 femtech companies constructed to have a greater concern over women's wellness. The growing companies are majorly investing in R&D to develop innovative projects for better solutions.
Why Femtech?
As we know, women face a lack of digital health options for menopause and aged care. Femtech is a great platform for all women who are interested in fertility, pregnancy, period tracking and more. It is a life-saving solution that supports women's health and well-being.
Most females are not able to take care of their initial period of pregnancy and want better access to services that empower their health in their own hands. Femtech focuses on delivering reproductive products for home use and also helps to track the period cycles on time.


Women who live in rural areas are not capable of taking the proper treatment. It is estimated that black women are four times more likely to die from childbirth complications than white women. Femtech is the topmost solution that offers a wide range of healthcare accessibility and improves maternal outcomes.


FemTech mostly involves innovation related to healthcare. The advanced innovations provide safety for your mental and physical health and also protect against harassment threats as well.


It includes wearable technology, healthcare software development, healthcare apps, and diagnosis tools that actually report the problems and manage chronic problems in order to prevent the measures.


How Femtech fills Gaps in Women's Wellness
Femtech comes with must-have solutions to reach more women and get to know their problems to take suitable measures. It was enclosed with vital products and services that were accessible to them to keep their health a top priority. Here we discussed some of the factors that help women to adopt this technique.
Many entrepreneurs started involving in the femtech industry to make women comfortable and safe. The online health platform helps them to overcome important consequences that affect the body with an increase in age. The innovation in the solutions has led to an increase in monitoring devices and a vital rise in the adoption of tools.
Women can improve their maternal outcomes, and overall wellness and make healthcare a more equitable place. The lower income areas can also get the services in a proper manner and have free consultations related to their pregnancy issues.
New technologies allow physicians, and doctors to have access to the patient's data. The femtech enables them to provide better quality care and the data will be updated in real-time.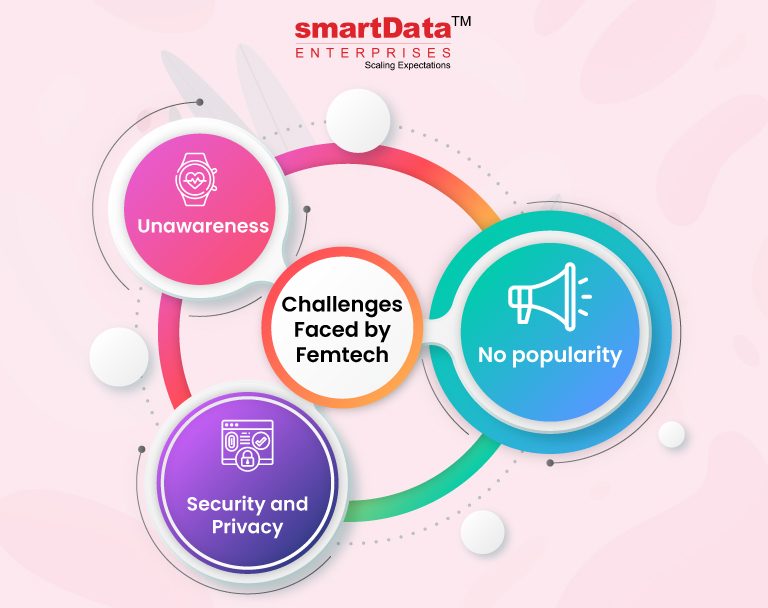 Opportunities in Wellness Sector
The femtech sector itself comes with a lot of opportunities that reshape the traditional ways and ensures women's safety and security. This latest advancement comes up with Medtech startups that use deep technologies to detect the major problems of women like breast cancer, infertility, menopause and many more. It offers reliable solutions that are highly effective for their physical and mental health.
Most companies develop solutions in five different elements i.e infertility, motherhood, pregnancy, gynaecological health and lifestyle & wellness. These opportunities will ensure greater public awareness and reduce barriers for FemTech entrepreneurs.
Challenges Faced by Femtech
A recent study reveals many hindrances in the femtech industry. It is not easy to design such a platform that will take care of women's wellness appropriately. There is a lot of effort from the developers and the team members. There are some challenges faced by femtech in order to make their value in the market.
In low-income areas, the funding for services and product development is not that high. Most females are not aware of this app and there is no knowledge related to this technology.


The wearables introduced in the market do not gain popularity in rural areas. An economic burden hinders smartphone penetration and female products. A lack of scientific data on the population will automatically reduce its usage.


Most women do not prefer this technology because they are concerned about trust, security and privacy. The market values also not promote the factors of femTech as the thought of losing it.


We are a leading global organization that has contributed 60 thousand + man-hours towards Femtech Landscape in emerging areas like Reproductive Health Period, fertility tracking, pregnancy, nursing care with comprehensive OBSGYN, Fetal Medicine EHR, Postnatal Care, Maternal Health, General Healthcare, and Wellness.
Future of Femtech
The upcoming future of Femtech companies is going to be very bright in the coming days as there are hundreds of startups coming on the way. They mainly focus on providing services to every single area and making a good investment.
The Fitness app development creates space in the medical sphere with its topmost femtech solutions. Digital women's health is a new concept introduced in the market to give proper attention to the matters concerned with their mental and physical health.
Wrap Up
Lastly, the femtech industry is extremely important nowadays and beneficial for every woman in the world. Women are the pride of the nation and their problems should be concerned more. We should promote every femtech idea that improves women's life, health and wellbeing. There are various women's wellness apps that are gaining popularity with time and come out with innovative functionality that enhances women's mental and physical growth. So, choose the best women's wellness apps that will eventually change your lifestyle for the best.