Have you ever wondered how high-quality software development could help revolutionize your business, streamline your processes, and make your customers happier? Find out today with smartData Enterprises! We're a leading global contract software consulting organization that's been delivering on client expectations for the last 20 years. We're a seasoned team that's executed over 8000 projects in the global arena, with 5 offices in North America, Oceania, and Southeast Asia.
In light of our success and impact, we've been named as one of the leading .NET developers in India, according to the Clutch 2020 Leader's Report. Clutch is a verified B2B market research firm that leverages a unique ratings formula to identify industry frontrunners.
We'd like to dedicate this award to our superstar clients! They took part in one-on-one interviews with Clutch representatives to gauge our impact on their day to day operations. Our work was evaluated along the lines of quality, attention to project timelines, cost, and project management skill. In summary of that data, we're pleased to say we maintained a wonderful 4.6 out of five stars! Take a look at our most recent review.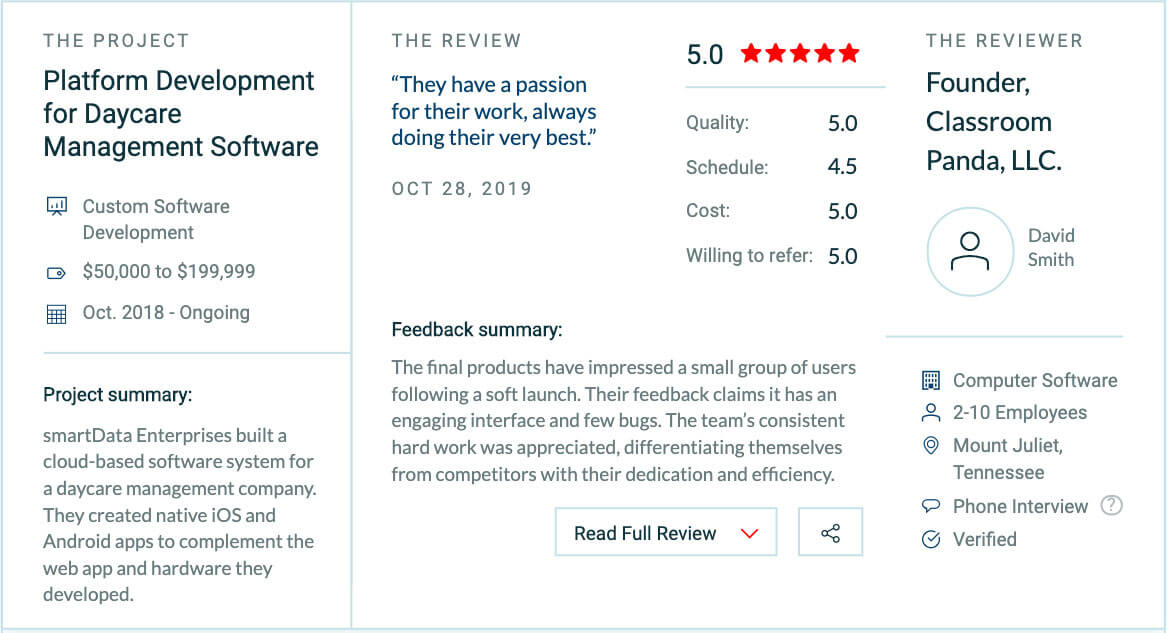 "We are excited to have been chosen as 2020 Clutch Leader on the top software development and emerging technologies companies in India."
smartData Enterprises Team
We're ecstatic to receive this recognition and promise to uphold our standard of quality and innovation as 2020 Clutch Leaders!
Drop us a line
if you'd like to learn more about our award-winning process today.