Lockdown brought smarTians face to face with the unknown. The way operations have continued for over 300 days is a testimony to precise planning, continuous monitoring, and exemplary hard work and dedication towards work and the associated livelihood. Video conferencing has helped. The water cooler talks have been replaced with virtual settings. There have been numerous talk sessions and video conferences for the last three months. The calls have been both formal settings to discuss work and informal off work conversations. This has been a great way of conversing with people and knowing how they are doing in these heightened state of anxiety due to pandemic & offering help and support and solace in any way possible. Some of the continued efforts by the different group which requires mention are given below :-
smartData Mohali, March 2021
Visit to Paraplegic Rehabilitation Centre
What could be more prestigious and a privileged opportunity for adding some moments of engagement, energy and warmth in the lives of our soldiers on the wheelchairs. To support the cause of Prasanchetas foundation, a visit made to Paraplegic Rehabilitation Centre for the felicitation and giving away the certificates to soldiers who participated in 3 days workshop of making paper bags and paper pens made from newspapers.
smartData Dehradun, March 2021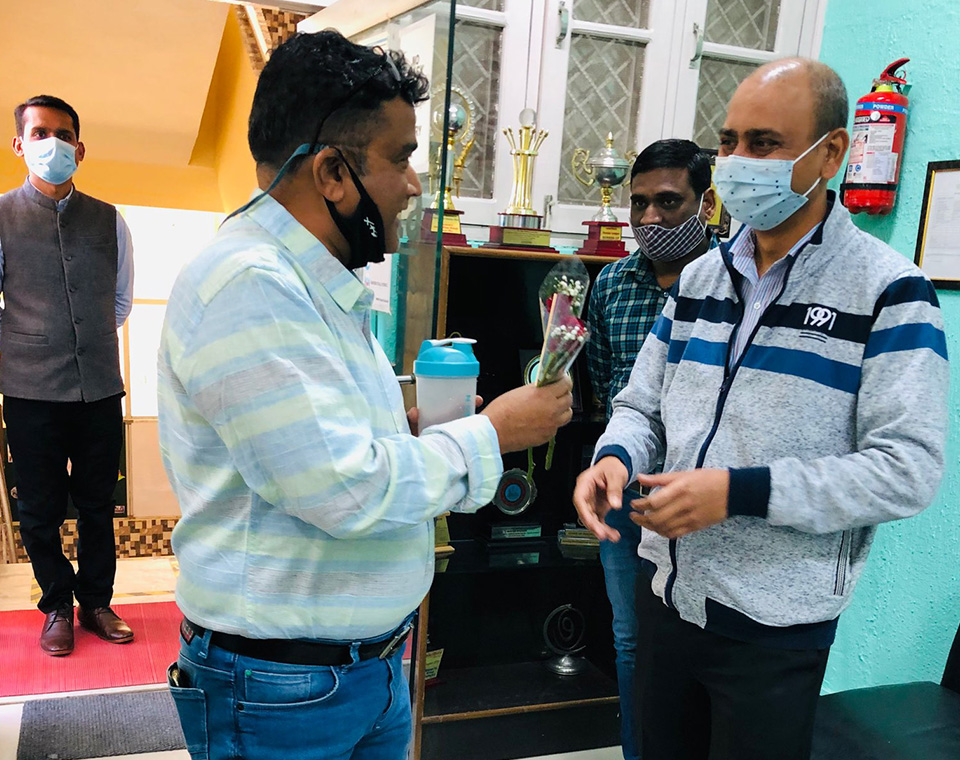 Branch Visit
Inter-organizational visits are a fantastic way of knowing what a functional day involves. Team meetings, client calls, observing deliveries closely, monitoring processes, effective workflow, understanding theoretical and practical implications while promulgating knowledge transfer are some of the important factors included.
smartData Mohali, February 2021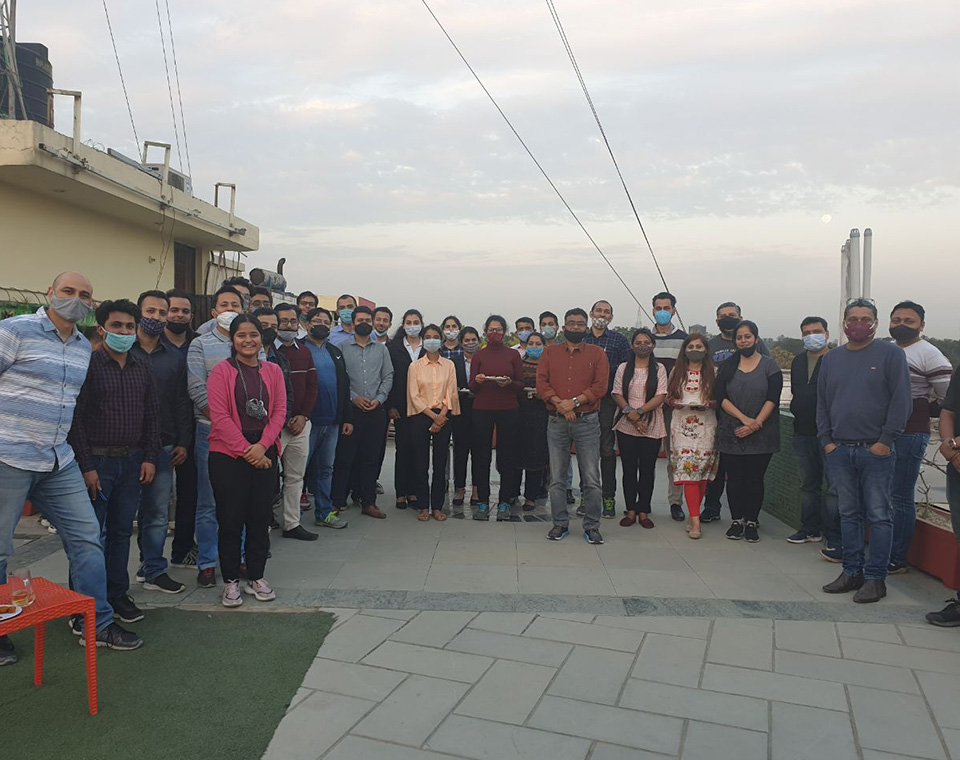 Business Development Group Get Together
Get-togethers are a much-needed refreshment and a great idea in generating a culture where innovative ideas lead to fantastic conversation and strong bonds are created while having meals. Business development group get-together was a great example of team building, a positive work environment, and a platform for many to exhibit their talent.
smartData Org-Wide, February 2021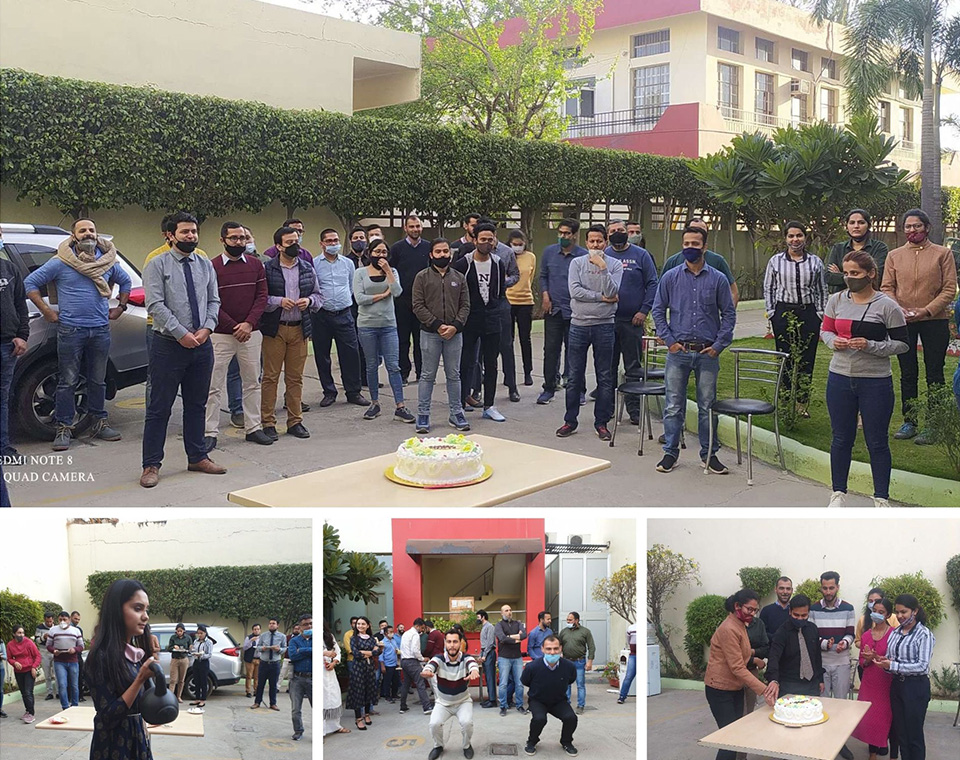 Happy Moments
One of the key happiness principles is savoring and cherishing every second to appreciate those happy moments in one's life. Similarly, every individual is important and we make sure their special day like work anniversary, birthday is captured and celebrated with greater enthusiasm and spirit among all smarTians, across all locations.
smartData Org-Wide, February 2021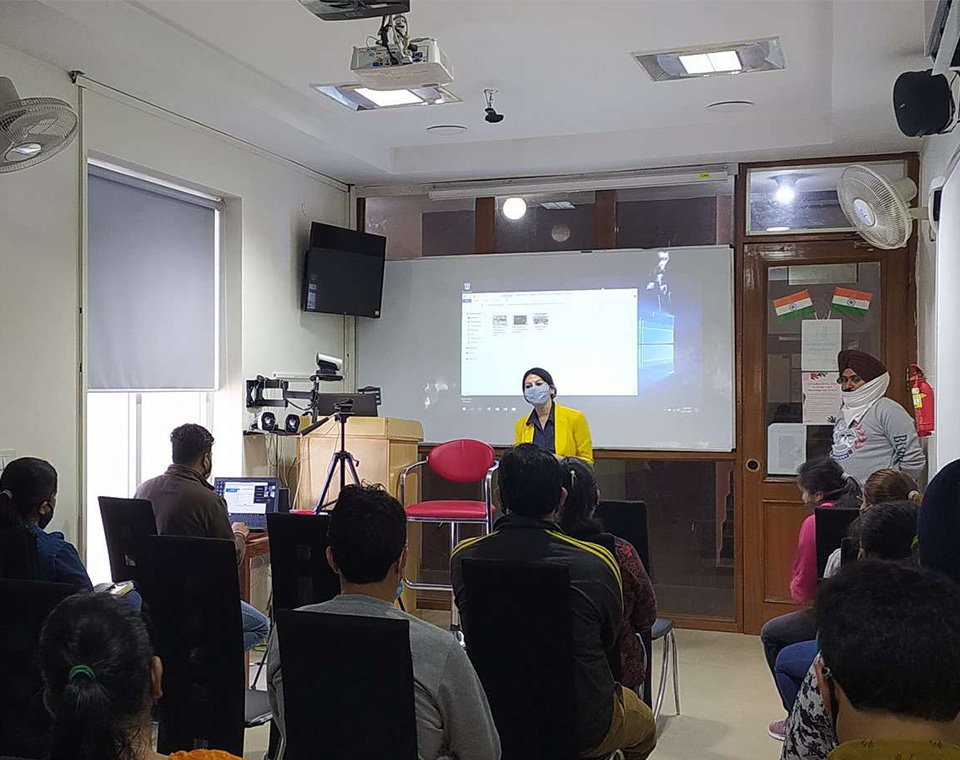 Session on Positive Body language and Gestures
More than half of all human communication takes place nonverbally. A Soft Skill session – "Positive Body Language and Gestures" given by director Prasanchetas Foundation. The purpose of this interactive session was to develop smartians Personality & Self-representation.
smartData Org-Wide, February 2021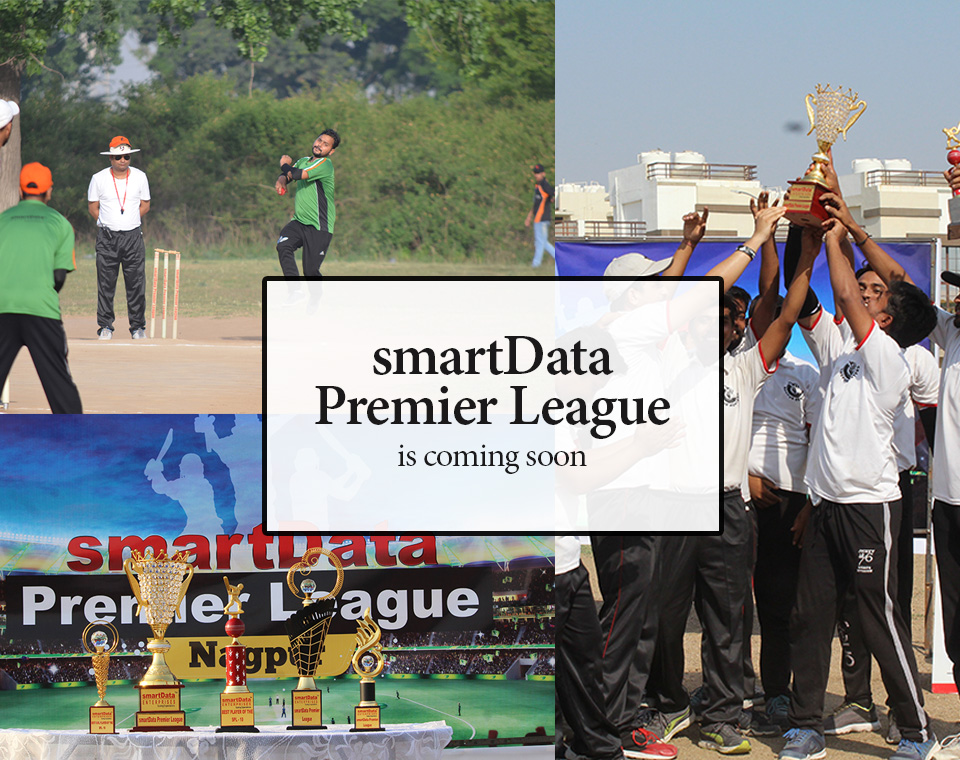 smartData Premier league Coming Soon
SPL has a series of smarTians feelings, passion, and love for Cricket. Fitness, celebrations, learning, passion, team efforts- all in one place. This event gives them the opportunity to take a break from their busy work schedule and emphasize the fitness mantra of smartData.
smartData Dehradun, February 2021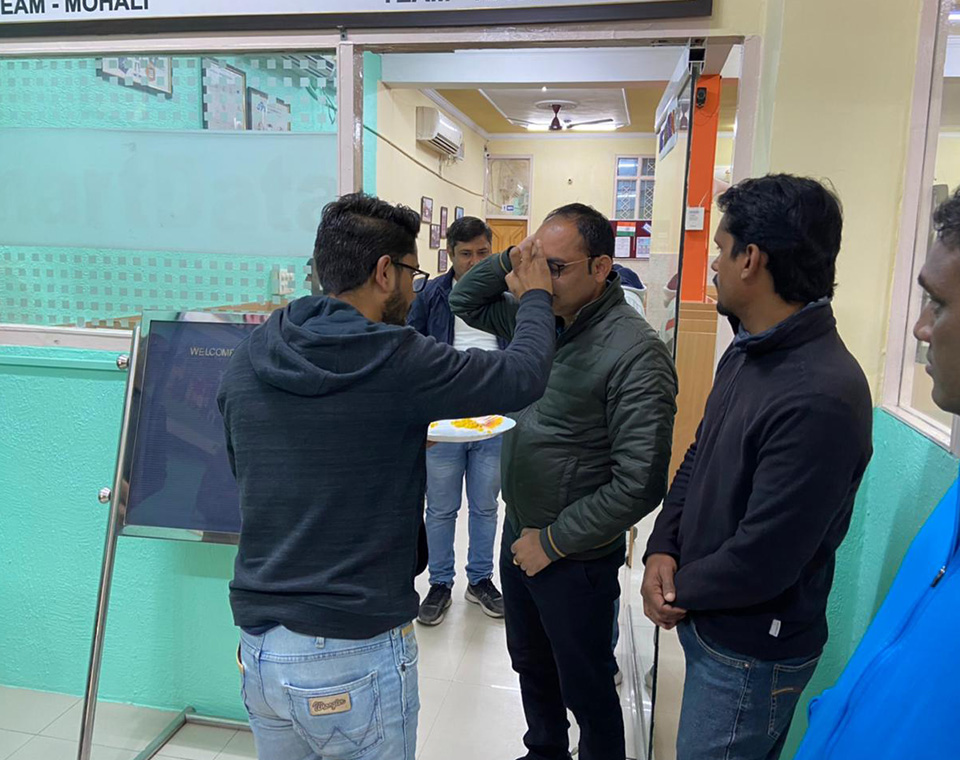 Basant Panchmi Celebration
With the onset of the spring season again, it's time to celebrate the festival of Basant Panchami. What better could be to celebrate this very day with our other family at the workplace. smarTians from Dehradun offered their prayers to Goddess Saraswati and wished to have a prosperous and wonderful year ahead.
smartData Org-Wide, February 2021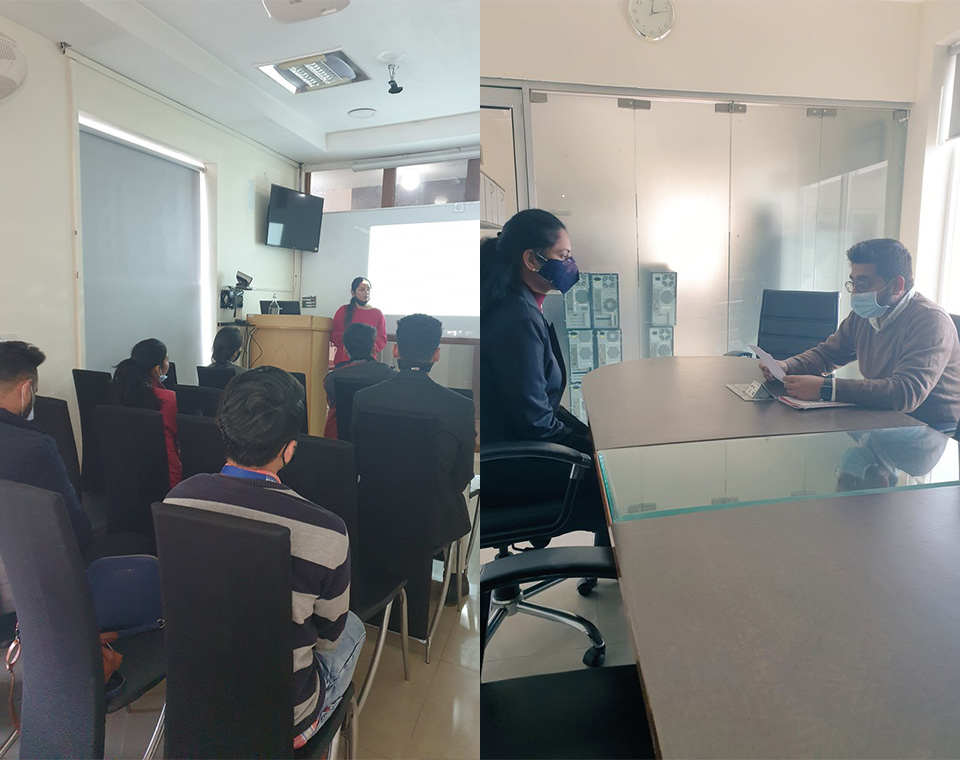 Off Campus Hiring
Talent is a natural endowment of a person and finding good talent can be a great challenge. Expectations were high at the Mohali off campus hiring. where fresh talent of hundred plus waited anxiously for one-to-one and video interviews with officials from different branches.
smartData Org-Wide, February 2021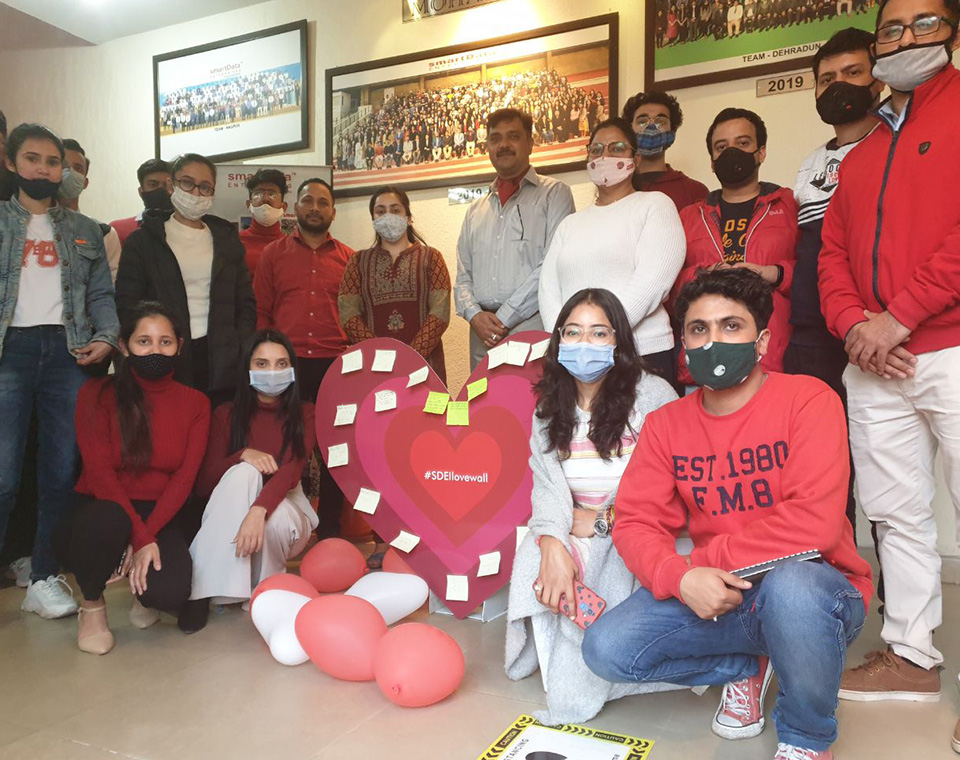 Valentine's Day Celebration
There's only one happiness in life and that is to be among those who love you, and compliment you in every way. To celebrate the special day of Valentine's, lovely comments were posted on SDEIlovewall by smarTians also all walked in the premises wearing red and white symbolizing the compassion of tenderness, affection, and warmth.