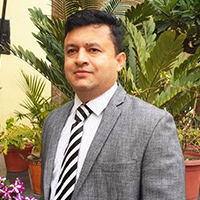 Vivek Sharma
Vivek is having 19 years of escalating information technology experience with top-notch blend of innovation, technology, delivery and business experience. His uniquely in-depth understanding of technical complexities and readiness to take over any technical challenge has helped the organization to build a rigid MS technology group of sound developers at all facilities of smartData. He has been always realistic and extremely adept at scaling business operations. As a leader, he has a great virtue of team management skills and proven ability to build, motivate and lead many enterprise-class quality engineering teams.
He has been with smartData since 2004 and worked with various positions: Project Manager, Business Unit Head, Delivery Head and Director Operations.
Specialties: Lean and Agile Development, Microsoft Technologies, Service Operations, Leadership of large Teams and Projects, Growth strategy of Repeat Business. He has played a major role in stabilizing healthcare MS in Mohali branch and Microsoft array in Nagpur branch. Vivek has done Post Graduate Diploma in Computers from Kurukshetra University. He is also Microsoft Certified Solution Developer and certified Scrum Master. Apart from being a tech professional, he is also an avid trekker/sports lover.