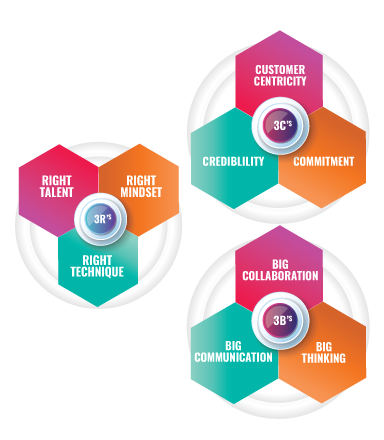 The quality of our positive workplace culture boils down to six essential characteristics:
Caring for, being interested in, and maintaining responsibility for each other.
Providing support for one another, including offering kindness and compassion when others are struggling.
Avoiding blame and forgiving mistakes.
Inspiring one another at work.
Emphasizing on the meaningfulness of the work.
Treating one another with respect, gratitude, trust, and integrity.
While ensuring that our culture evolves on the above cardinal rules we also emphasize on the following principles of 3's to ensure holistic overall growth for the good of our customers, ourselves, and the organization as a whole.
First and foremost of the 3's is 3C, which is our attitude towards customers in terms of customer-centricity, our credibility & our work commitment to them - at smartData all starts with our customers.
Next comes 3R's, 'Right' is what is right for our workforce in terms of talent, mindset and technique & either it is there or we grow these important tenants amongst all smarTians.
Last but not the least is the idea of being "Big" - be it communication, collaboration and thinking - all crucial aspects to succeed in today's globalized flat world.
Know more about our employee safety and employee engagement activities being carried on during COVID.