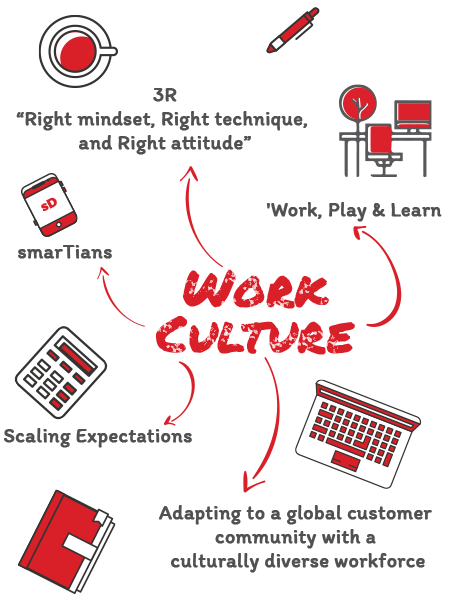 Focusing on happiness, growth, abundance and cultivating one goal mantra makes smartData one of the top companies to work for. Our happy workforce is our strength. It is management's endeavor to provide all required facilities needed for an excellent and healthy work environment.
smartData Corporate Theme: Serving Communities, fostering Employee Fitness and Sustaining Green at all company levels
Building a winning culture with a leadership and solid value system has been one of our prime objectives. smartData focuses on 3R – "Right mindset, Right technique, and Right attitude", and most importantly what sets our organization mission is "Adapting to a global customer community with a culturally diverse workforce". We have our values intact – "Diversity of opinions and people".
100 thousand hours of internal training enable employees to deliver excellence in engineering, delivery, and business development. A transparent and reward based system ensures recognition at all levels motivates them to work hard and learn more.
Understanding our workforce whom we proudly call "smarTians" and caring for their needs and requirements, motivating them to bring out the best in them are our mantras for a happy work-life. Not just the professional skills, our management, abiding by the adage which goes 'Work, Play & Learn' strives to promote the individual skills through various competitions within the organization such as cultural leagues, adventurous treks, cricket tournaments to name a few.
Following our motto Scaling Expectations, we as a team ensure that the members across all branches remain motivated all along.
#BigCollaboration #BigThinking #BigCommunication