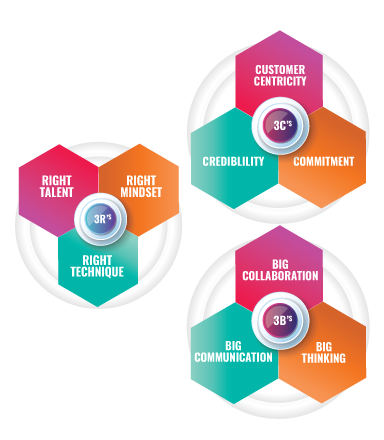 Workplace culture is the general character of the business. Often unique to the organization, workplace culture can include elements such as the business's values, beliefs, behaviors, goals, attitudes, and work practices. Ideally, businesses want to make a culture that's viewed as positive. The Core Characteristics of positive work culture are
Transparency in Communication
Opportunities for Growth
Culture of Collaboration
Effective Reward Systems
Strong Purpose and Core Values
Treating each other with respect, gratitude, trust, and integrity.
Our belief is that great cultures shine through into great products and services, which contributes to positive business performance and an even stronger brand identity. This is achieved by the Following cardinal rules:
Firstly the Cardinal rule of 3Cs. which is the ethos that guides this organization to achieve excellence by the display of right attitude towards the Customers and their business growth through Customer Centricity, Credibility by inspiring belief in customers and affective Commitment.
Secondly the ideologies of 3Rs, the organization painstakingly groom the employee for Right Talent, Right Technique, Right Mindset to formulate a winning perspective and achieving long-term success.
Thirdly the ethos of 3Bs the idea of being "Big" in communication, collaboration, and thinking – for Effective Leadership, effective teamwork and setting big goals, all crucial aspects to succeed in today's globalized flat world.
Know more about our employee safety and employee engagement activities being carried on during COVID.