Fitness is the major key to well-being that can never be denied. Nowadays, healthcare apps have gained popularity worldwide due to their high usage and building a strong connection between patients and doctors. To run the medical industry, proper administration should ensure smooth functioning. This will only be fulfilled through online healthcare apps, which will enhance the quality of work and maintain consistency.
Research shows that the global pandemic gives rise to higher usage of healthcare apps. The industry estimates more than 32000 mobile health applications that grow 30% yearly. The demand for healthcare apps is increasing to get treatment at their convenience. It provides reliable services to users and promotes many super specialty hospitals to treat their patients at home.
Here we discuss the complete guide to healthcare application development and the necessity of using these apps. They transform our way of living and keep us connected with our health each day. So, stay tuned to the article to get further information.
Why Healthcare Apps?
Healthcare apps are the best way to connect with a specialist at your convenience. Some might be facing serious health-related problems that require frequent updates, so an app is an easier way to stay in contact with doctors and get the care they need on an urgent basis.
To properly work these apps, you need a strong internet connection to talk to healthcare professionals. With the help of these apps, doctors and nurses will be able to assess symptoms on time and properly advise patients to undertake an action related to the problem. These will create a safer environment for patients, doctors & service providers by identifying the circumstances in advance.
It is a big platform for users to get advanced home services. These apps properly monitor the user's health and keep you connected with doctors without any hassle.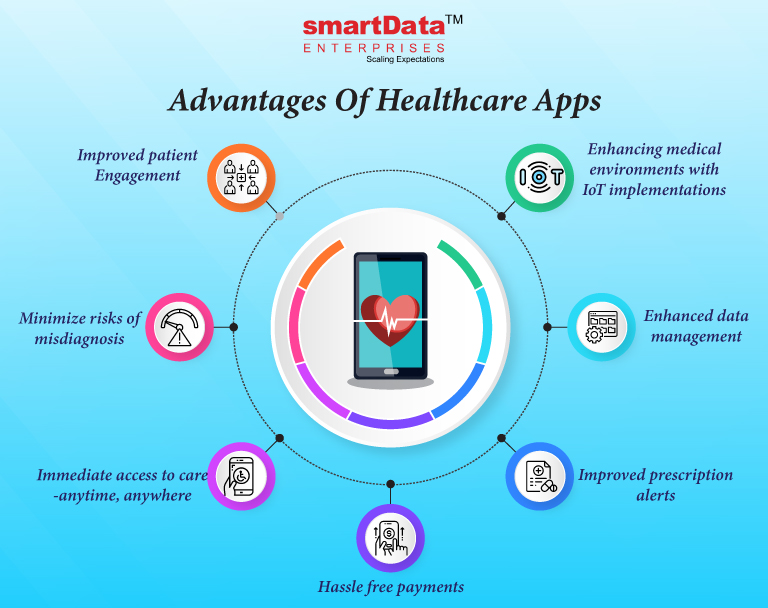 Advantages Of Healthcare Apps:
Health management apps are capable of automating paperwork effectively. The ease and automation come together to focus on the major problems of the patient's well-being. It enhances healthcare delivery more efficiently and handles multiple queries at a particular time.
With the advent of healthcare apps, people are becoming more self-aware about their health. It supports the doctor in making more precise and fearful decisions related to the patient.
It is a cost-effective platform that enhances the efficiency of healthcare and is ever-growing the need for such users who cannot connect with doctors face to face. Its goal is to connect more and more users globally and provide services to every patient.
The capacity to store and access data is entirely altered. Now that the professionals have access to the patient's information, they can begin the healing process. Doctors can quickly and efficiently disseminate information thanks to social media.
It is a great means to let your patients access the services faster and benefit the hospitals by improving their services. This will constantly grow the business and positively promote the medical industry to enhance its productivity.
Telehealth helps patients to understand their diagnosis better. It will maintain all patients' records and medical history to get the proper diagnosis and prescriptions.
Patients can easily connect with the desired doctors via video conferences and calls. They get online prescriptions for their health issues and connect with the doctor anytime.
How to Build a Healthcare App?
There are a lot of healthcare apps found in the market. Suppose you are thinking of creating an ideal healthcare app that fulfils the user requirement. Here we guide you step by step to start your mobile journey and make a user-responsive app that is different from competitors.
First of all, choose the app model. There are various types of apps related to the service provided. Go with your requirements and create an app according to patients, healthcare providers, and managers.
Analyze the Competitors:
Identify the market research and involve yourself with the competitor's requirements. You want to create an app different from other professionals. Just go with the market structure and check the user interest. Your focus should be on knowing more about the possible users and understanding their requirements.
Need a Best App Development Team:
Once you know your target audience, make your requirements related to the app and start the action. An expert team of developers is needed to create a fully developed healthcare app. You should hire the best app developers, designers, and testers who have complete knowledge of constructing an app and making it more user responsive.
Create an MVP to Build an App:
It is quite expensive to create a medical app that should contain all the services for the patients. To manage the whole procedure, you must have a minimum viable product. This will help you save money and reduce the time of creating an app.
Testing:
When you construct an app, it's time to test every part of it to ensure its proper functioning and improve the problems. Once created, the healthcare application is available to users via the google play store or the iOS app. It is necessary to know the flaws in the app and improve it efficiently.
smartData is a top-notch software organization. We offer the top services to enhance your quality of life and make it better. We offer the best healthcare services with top-notch technology that leads to better result and well-organized treatment plans. These devices highly improve our quality of life and enhance productivity.
Healthcare apps are encouraged all over the world to help patients to get reliable services on time. It will save you time and help you get the proper treatment for long-term health benefits. For every user, fitness should be a top priority, and go with certain measures that help maintain your healthy routine properly.