Whenever you decide to design an application or platform, the first thing is the technology that drives the business forward to achieve success. Therefore, when selecting a particular stack for development, its benefits and basic functionality are considered first.
Most companies want greater scalability and user management to have an ideal application that fulfills the client's needs. MEAN stack is a powerful solution that makes it easy for the developers to make changes between the client and the server side.
This article will provide a thorough roadmap of Mean development which is said to be the finest platform for programmers to create applications.
MEAN Stack Technology
It is a full-stack framework that can develop mobile and web applications with the same codebase. In addition, MEAN is compatible with all major operating systems and allows for easy deployment of apps on cloud platforms like Amazon Web Services.
Factors of Choosing a Right Technology Stack
Choosing the right web technology stack is a process that requires thorough consideration that is based on multiple factors.
Remember that each Project is unique, so the idea implemented on the previous Project may not work this time. Consider demanding solutions that will be key to binding up a new project.
It is advisable to learn from other mistakes and experiences. Only expect one good solution will work sometimes, do not blindly follow your competitors. Besides, you have to make your app better than your rivals. Choose a better technology stack for a web application.
Research before making the final decision, and always value your personal experience over online data.
Show your experience in your dedicated year's work. Keep an eye on current trends and relevant skills that will help you enhance your productivity in web development solutions.
Top Benefits of Choosing MEAN stack for your Project
Here we discuss some major benefits of MEAN stack development for faster backend mobile applications and websites.
A highly adaptable framework that makes it easy for us to test our code on a cloud platform.
Offer a solid foundation to design and develop software and websites.
Highly efficient in managing huge-size data with MongoDB.
Huge libraries offer great assistance to developers.
Offers cloud compatibility.
Create dynamic websites with High-quality results.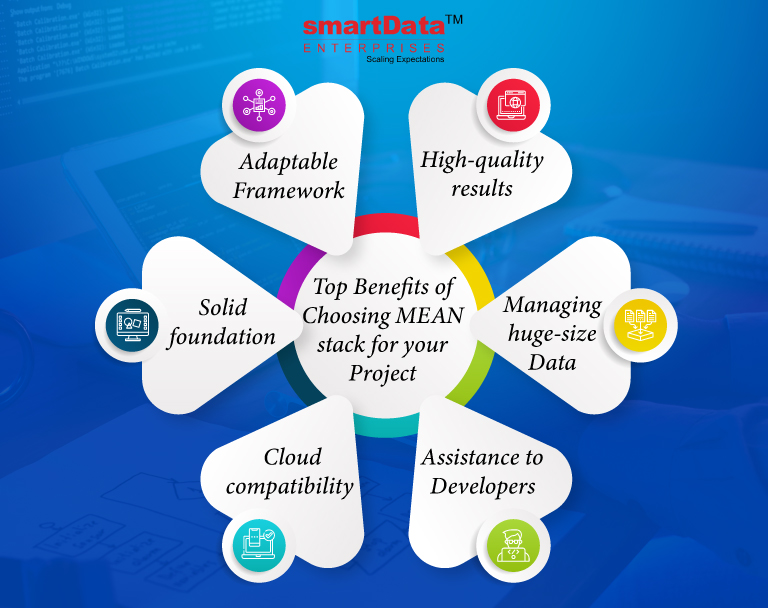 Reasons to Opt for Mean stack Development for Developers
MEAN development involves the compilation of different technologies to build customized web applications. Almost every web development company uses MEAN stack programming for developing feature-rich solutions. Here are some pale points to opt for Mean stack Technology for developers.
It allows you to use multiple technologies on a single platform. You can easily access various tech to build and develop a user-friendly app.
With the advancement in technology, MEAN stack development allows the creation of single-page app development with ease.
The demand is increasing for Mean development because it is preferable to use in comparison to other languages.
Create the best web application by consuming less time and giving excellent results.
Mean stack gathers constant support from industry giants and several communities like MongoDB, NodeJS, AngularJS etc., to customize the code based on their requirements.
How smartData put a kick step in MEAN Technology Stack
smartData is a leading organization with expertise in developing reliable web/mobile app solutions for clients worldwide. With 10,000 projects and vast experience of 20+ years, we ensure continual business growth for all our customers.
Our experienced MEAN stack developers are committed to delivering high-end products and services to customers across the globe. Being strong expertise in Microsoft, MEAN/MERN stack with mobility approach via native or hybrid helps us to deliver the ongoing needs of customers continuously.
We have a dedicated team of designers and developers working on different requirement-based projects with the topmost technologies that will give your business a new direction. Build the app from scratch with our scalable MEAN stack web applications that cater to all business needs.
We offer services on the web (WordPress, Shopify, PHP and its frameworks like Laravel, Code Igniter, Cake PHP, MEAN/MERN/.Net) and also have designers, so we are good at providing overall UI/UX design development.
Create flexible, scalable, cloud-based applications with our dedicated team of MEAN developers. Connect With Us.
Wrap Up
Although the use of Mean stack technology helps developers to design fast, robust and dynamic websites and applications, it gathers all your business needs to the core. It makes you content in terms of achieving a perfect web app. Suppose you are looking forward to developing a software application using MEAN technology. You can reach our experts to enter the competitive market and make a future-ready solution.