Technology has revolutionized different ways of security platforms that enable users to secure and save their data confidentially. Blockchain is a great innovation gaining popularity as industries need more secure means to protect information from unauthorized users.
As blockchain transforms the overall structure of various fields, it also achieves great heights in the healthcare industry. It gives them a new direction to overcome hard problems and secure their information to get complete control over it. No information is leaked out of the system as it facilitates multiple methods to modify the security and treat the patients in real-time.
Mobile app development services help healthcare apps connect with users and get proper treatment without spending much money. Blockchain plays a vital role in the medical industry with its new schemes that enable the healthcare industry to develop its scope over the universe and connect with more users.
Need for Blockchain
With the help of blockchain, the healthcare platform is transformed rapidly. The traditional clinics and hospital system is unreliable enough to provide proper security and cannot handle a large amount of data at a particular time. Patients face many problems while scheduling appointments and cannot get proper treatment due to a lack of facilities.
Not only healthcare, but it also offers advanced security in different fields that are not safe, and the information can be leaked out anytime. It eliminates the need for middlemen, and bank transactions can be done seamlessly via mobile apps. This will save your time and enhance the security of the system. Blockchain proves best for any peer-to-peer transactions in mobile apps.
The user's information can be easily transferred between the providers and the organization. There is no need for verification as it is the best alternative to get the services in real-time. It securely transfers medical records among different health systems and boosts the coordination of lower transaction costs.
Why Blockchain?
This technology is considered the best one in the case of accountability and efficiency. It provides a suitable means for data sharing and maintaining integrity. Most blockchain application development companies evolve their strategies to enhance performance and access reliable facilities conveniently.
Covid is a severe pandemic that completely changes the pace of the world for the worst. People do not get the services because they suffer from low oxygen levels. This is a hard situation for the world, and it needs a proper solution to get treatment in real-time.
Healthcare apps gained popularity as they transformed the way of living and coping with real-time challenges and helped to get facilities anytime.
Blockchain networks ensure proper security of confidential data and exchange it efficiently by providing data security across multiple applications and detecting serious problems in real-time. Various blockchain development services come with decentralized solutions to add security and transparency to your business.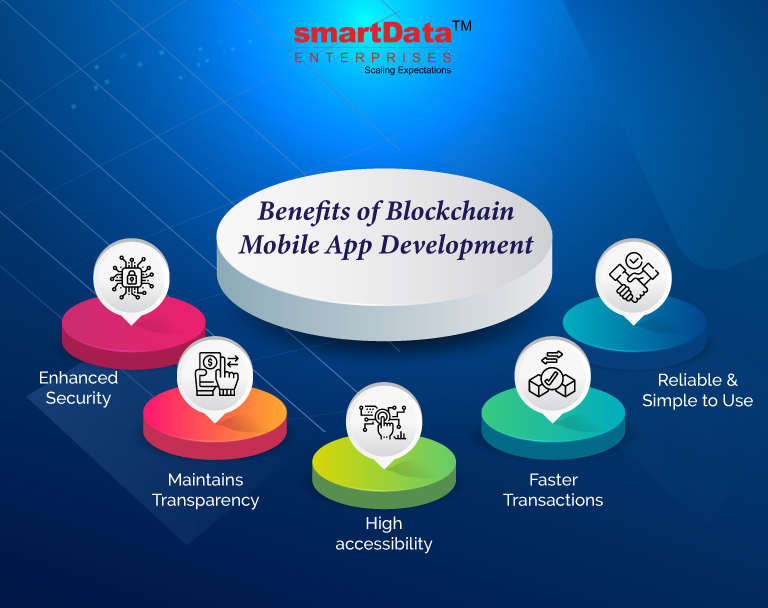 Benefits of Blockchain Mobile App Development
Blockchain gains popularity with time and introduces great features that are helpful to improve the strategies of the mobile app development process. It aims to provide a secure transaction for an android app or IoS from anywhere without any hassle and offers you reliable means to connect with the world in less time.
Enhanced Security
When it comes to securing the confidential data of doctors and patients, blockchain plays a key role in providing advanced security to corporate data and handles various systems efficiently. It also offers additional encryption levels to make the transactions highly secure and safe. The user can share the information freely with the department and schedule appointments according to their requirements.
Maintains transparency
This is the best advantage of blockchain technology as it decentralizes the transaction process and brings more transparency. You can make comfortable online transactions and pay medical bills easily with online portals that will confirm your treatment process. No need to wait in long lines and delay your service. This will effectively raise the number of users and keep track of every customer.
High accessibility
In the old time, the process of sharing information was slow and took more time to circulate to other organizations or systems. As we know, a blockchain is a decentralized network that allows the management to share data on another platform simultaneously. The record is automatically updated in all the systems, and users can easily connect themselves with different people globally.
Faster Transactions
Blockchain creates a secure environment for users to make their transactions anytime via online mobile apps. Mobile apps keep you connected with other people. There are various payment methods like Google pay, Paytm, phone pay, UPI, and more. These apps make our way of life very easy and convenient. The healthcare apps on smartphones easily connect to their specialists in less time. This is a cost-effective process that saves time going through hospitals and scheduling appointments.
Reliable & Simple to Use
Blockchain technology looks complex, but it comes with great features that are capable of making the systems more simple to use. Our lives completely rely on smartphones as technology gets advanced. It makes the systems more reliable due to their flexible nature and keeps you aware of the latest updates that help to develop your mental ability.
smartData is a leading organization that adopts various methodologies of product development and provides various wellness and fitness apps that helps to stay connected with your health. We provide reliable services like nutritional analysis, telemedicine, digital pharmacies, digital diagnosis, and many more. We connect to users' problems and offer reliable solutions to their health-related problems.
Wrap Up
Lastly, blockchain technology has revolutionized mobile app development in the best ways that will help to enhance productivity and more and more users connected through apps to make it more responsive. It makes the custom app more secure so that users can take advantage of platform-specific features. Nowadays, companies offer a secure and pleasant user experience to open new possibilities in the app world. So, connect yourself with these efficient mobile apps that transform your way of living for the better.