The world is changing and new approaches are introduced in the market to improve the shape of mobile apps. Users expect new designs and layouts to indulge themselves with new trends that make their apps highly responsive and as per user requirements. The pace of the Mobile industry is going on developing to fulfil the user's needs and to develop the best interfaces with various elements.
The pandemic changes our lifestyle radically and we get more engaged with mobile apps. The digital world is going on evolving with the best schemes and technologies due to the higher demand for mobile apps. With the rise in the popularity of mobile apps, companies that provide the best android app development services invest more money to enhance the user experience and achieve the goals of the business.
Here we will go with the latest mobile app trends that enhance the user experience and are capable of fulfilling the demands of making the app highly attractive and trendy.
Why Mobile apps?
It is an ideal way to offer awareness among the users and recognition of the brand to enhance the communication factor globally. It connects user to interact with each other and also grow the business in a positive direction. Businesses achieve heights via promotion and putting ads that strengthen their activities and build strong relationships with customers.
Apps allow the user to easily access the products, services, and processes in real-time. They provide the best user experience and load the content faster to improve productivity as well as increase customer loyalty and retention.
Mobile apps increase their spending on app growth to meet the demand for app downloads and drive user traffic. New traffic will automatically expand the user base and establish trust between a company and customers. The apps perform simple functions and fulfil user demands efficiently.
Reasons to Follow Latest Mobile App Design Trends
Attractive and user-friendly designs make your app worthable and more profitable. An amazing app ensures a seamless and enjoyable user experience. Here are the reasons to go with the latest trends to make your app more trendy and responsive to users.
Attract Target Users
Are you accepting the outdated design of the mobile app or want some better solutions to improve it more effectively? Increasing the ranking and traffic is a key factor that affects the user's decision-making. To attract more customers globally, the latest trends and techniques in a mobile app make it more flexible and increase scalability for better performance. Via a custom mobile app development company, we can give users' preferences a top priority and increase traffic to the site.
Highly responsive and extensive Display

Poor UI and layout will make your app the least responsive and face product display issues. The latest designs keep you aware of the industry's needs and are also helpful to make the app highly attractive to users. The users play a vital role while creating an app. choosing a mobile app with an intuitive and attention-grabbing design will outpace your rivals and keeps the users loyal to you.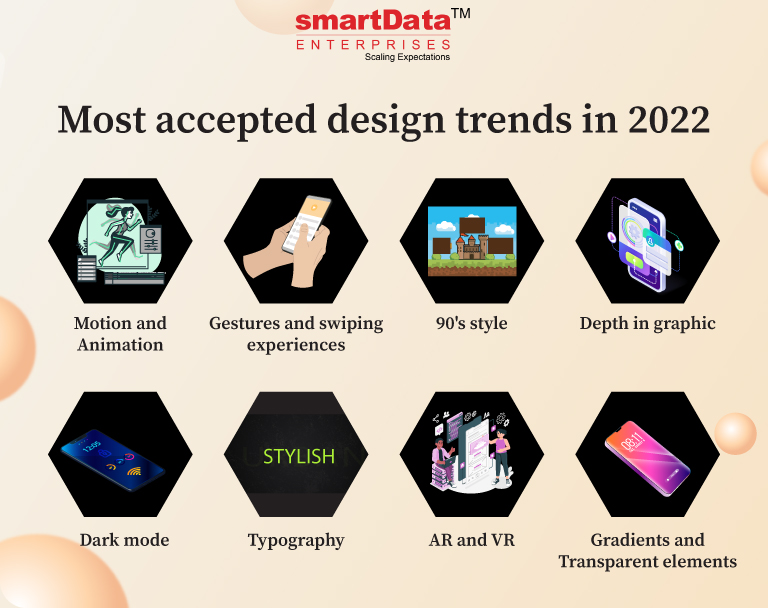 Most accepted Mobile Design Trends For 2022
Mobile apps should be updated gradually to ensure the latest features and smooth performance. Innovative mobile app design keeps you connected to the latest services and products. Here we will go through the latest trends that should be introduced in a mobile app to make it more accessible to users.
Dark Mode

This attractive feature predominantly uses dark colours and is considered a low-light user interface. Most of the time, users want to keep their eyes away from high brightness mode which adversely affects their eyes and leads to a weakening of eyesight. The night mode feature saves energy and also extends the battery life of your cellphone with less use of bright pixels.
It will make your screen look attractive and enhance the app's accessibility. When choosing dark shades for your smartphone, go with legible, stable and entertaining themes to improve its usage.
Gradients

We face problems of disappearing of colours in recent technology and after some time it comes back. A gradient is the most attractive feature that generates fresh color combinations to feel different from other designs. It is enclosed with multiple effects to make your theme intuitive and blend different shades of colors that give a unique vibe.
Chatbots
This is an important tool that ensures an amazing user experience and provides extraordinary services that give a chance to increase the communication factor. It is an excellent way for companies to build long-term relationships with their customers. An intelligent chatbot meets users' needs and potentially improves interactivity with various users globally.
Brutalism
This is the latest trend introduced in 2022 that brings a touch of edginess to your design. It usually comes in a black and white color palette. Most companies may not prefer this design due to its hard-to-read font and least typography. If you are involving something trendy and revolve around art and creativity. Prefer this design to get the latest approach.
3D Animation
The 3D feature in the mobile app is going popular as it serves a clear functional purpose. The picture will be viewed in 360 degrees which will improve the total eCommerce user experience and prioritize the efficiency of the interaction. It makes the screen more appealing and provides top-notch services to get real-time exposure.
Round shapes
As we are using our cellphones, we see a lot of designs and layouts of the round shape. The technology gets more innovative by giving sharp shapes that represent eternity. Mostly, the Signup, log-in form has round shapes that signify customers feel more confident and build strong trust with other customers.
The Skilled and talented designers of smartData help to create impactful and attractive UI designs that form relevant user experiences for the customers. Our designs deliberately support user behaviour as well as increase usability. We support businesses to transform the digital world practically and get the best over it.
Importance of Design for Mobile Apps
The goal of attractive mobile app design is to boost traffic as well as increase the company's brand with highly effective services and top products that will provide a high conversion rate and a good source of investment. An appealing design focuses on the customer's needs and is always a key factor in an app's success.
Nowadays, our social media platforms getting more innovative and comes with amazing designing that enables outstanding features. The mobile app marketplace changing its techniques and methodologies to meet the future goals of the company.
Conclusion
Lastly, mobile apps change our way of living and make us aware of the latest trends and technology. It is necessary to keep the apps up to date to ensure an exclusive user experience and connect with new layouts as well as designs that adversely affect performance and enhance productivity. So, staying tuned with current designs requires continual effort and understanding which is an important key for better customer retention.