People are getting health conscious with time and need a vital platform to meet their wants with a single click. Healthcare apps have caught an integral position smoothly in the medical industry. It transforms users' lifestyles more exotically with basic features. So, Here we are with another write-up on the need for healthcare app development businesses.
No wonder various healthcare industries have changed at a high rate due to technological improvements, making the competition quite challenging. If you are trying to be in the race and want to transform the strategies in a newer way, you have to bring something unique and extraordinary to be top in the crowd.
Let's start with our healthcare app development venture and get more understanding of it.
Top Healthcare Application Trends for 2022
Healthcare software development is an important aspect of the healthcare industry. People look for fast, secure and convenient health services that manage the treatment process and provide better care. So let's explore the healthcare application trends that are considered at the top of the list.
AI/ML

With the integration of Artificial Intelligence and Machine learning. Healthcare app developers harness the large volume of data and appropriate inferences from it. These advanced methods automate paperwork and estimate patient intake as well as personnel levels.

You can streamline and analyze medical imagery like CT scans, personalized therapies and innovation of drugs with AI. From appointments to diagnosis, every parameter is upgraded with AI/ML modulus. Despite this, AI chatbots in healthcare help to identify local clinics, schedule appointments and get information about medications.

Telemedicine

It is an effective technology, especially for patients living in the countryside. Telemedicine is the use of telecommunications technology for the delivery of health care services. It can be used in many different ways such as video conferencing, remote patient monitoring, and telepharmacy.

Blockchain

To maintain the enhanced data security of hospitals as well as clinics. This is the widely accepted trend associated with bitcoin. The healthcare application development improves health forecasts and diagnoses drastically, delivers exceptional virtual care at reasonable costs.

Other than that, it helps the sector exchange and store data without letting invaders intrude into the system and manage a vast volume of data due to its decentralized nature.

IoT (Internet of Things)

The use of IoT has increased tremendously over the last few years. Organizations are using it for various purposes like collecting data, monitoring health and even controlling home appliances.

In order to develop apps for this new technology, companies need to make sure they have a strong understanding of the internet of things (IoT) and how it works.

Cloud-Based Solutions

This solution can help healthcare app developers save time and money by making it easier for them to find the right information and develop apps that are in line with their users' needs.

Integration of EHR and EMR with a cloud offers easy access to patients' records insurance plans, medical bills, telehealth, medication adherence etc. This trend is likely to increase next year.

Mobile based Health

Mobile Health Apps are becoming more popular as they offer a variety of benefits. It empowers users to take control of their own health and provide patients with personalized care that is tailored to their needs. Despite that, it Reduces healthcare costs by improving efficiency in delivering care and great adherence to treatment plans.

Wearables and Sensors

With the increasing use of wearables and sensors, there is a growing need for developers to create apps that cater to these devices. These devices become a new trend in the health & wellness industry as it assists a quality life by reducing stress and monitoring sleep. The health and wellness apps are encapsulated with sensors to detect body activities in real-time.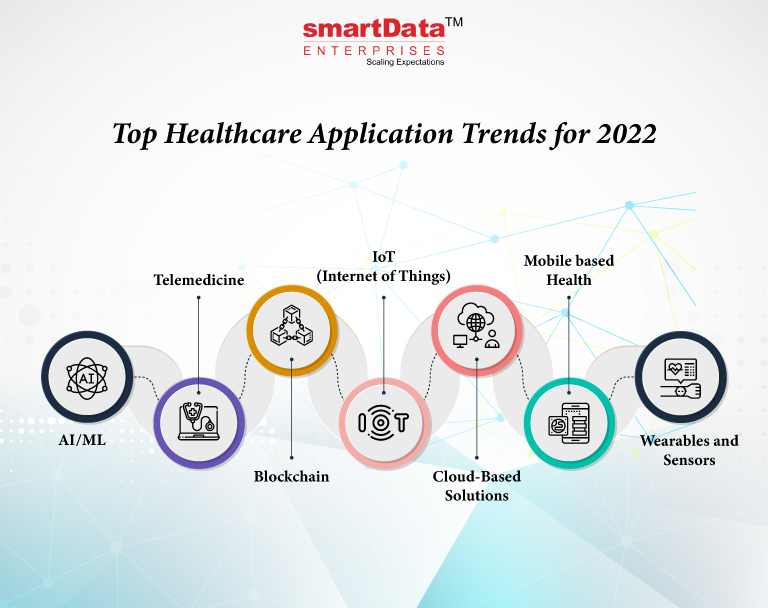 How smartData promotes Healthcare Solutions to Customers
We are a strong and dedicated team that is well equipped to deliver virtual and digital healthcare solutions all over the world for the last 20 + years. Our goal is to create apps and portals that are easy to use, even by users as well as clients without a lot of tech experience.
smartData is a renowned healthcare app development company that provides different healthcare services that include Revenue cycle management, Benefits administration, Consumer-directed healthcare, Telemedicine, Digital pharmacies, Remote monitoring, HRA, Virtual GP practice management and wellness.
Our team of experts does excellence by providing exclusive methodologies to maintain a patient record. Some services included mental health counseling and therapies for patients, Aged care platform and a Digital Health Risk Assessment(HRA) app for the users to reinforce positive lifestyle habits.
If you are looking for the topmost health and wellness solutions. We are here with our amazing healthcare services to amplify your health for the better!
Choose us now for healthcare app development.
Wrap Up
The healthcare software development trends are focused on the needs of the patients and their families. New software is mainly focused on patient-centered care and users can see their health data confidently. This is the right time to choose the beneficial services for your hospitals and clinics that will transform your traditional methods into new ones. The need for more efficient tools to manage clinical trials is driving the demand for healthcare app development.
The future of AI in healthcare is bright and will be a game changer for the industry. It will help reduce costs, improve quality and increase efficiency. Adopt smarter ways to increase the productivity of your business and provide more efficient ways for users to get the treatment effectively. This will be worth investing in mobile health as it boosts your medical company's revenue and reputation. Go for it.