Does the supply chain gain end-to-end visibility with Blockchain? Let's understand the term blockchain and how it revolutionizes supply chain businesses with increased automation efficiency.
Today, the supply chain connects globally, including manufacturers, suppliers and retailers, to form a strong network. The modern method continues to expand with newer innovations to make the systems more complex and disparate. However, traditional supply chain methods are somehow time-consuming and lead to delays.
We need advanced technology that makes the supply chain the best platform for users and suppliers. Blockchain provides end-to-end visibility to the supply chain and traces and tracks the entire production to enhance the automation process.
This article will explain the importance of blockchain development services to maintain supply chain transparency. Let's start.
Supply Chain
To understand the topic property, let's go through the term supply chain management. It is a process of handling the entire production flow of goods and services to maximize the quality, delivery and customer experience.
An organization creates a network, i.e. chain, to move the product from the suppliers to customers. It protects its business reputation and long-term sustainability. The supply chain hardens the system and keeps intruders and hackers away from the plans.
It improves the collaboration with suppliers via cloud-based commerce networks to enable multi-enterprise collaboration and engagement. In addition, the integrated AI platform helps coordinate decisions across the chain and automates the process accordingly.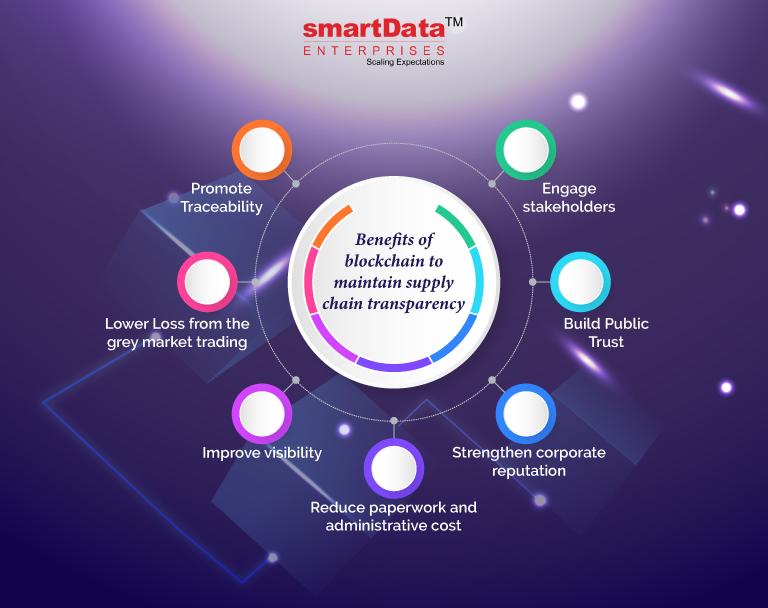 Benefits of Blockchain to Maintain Supply Chain Transparency
Although visibility remains a challenge in large and small-scale supply chains, here are some of the significant points that provide the supply chain with a more secure way for businesses.
Promote Traceability

Blockchain Increases the material supply chain's traceability to ensure corporate standards are met appropriately. Traceability helps companies to improve efficiency, resilience and competitiveness, enabling faster and more cost-efficient delivery of products.

Lower Loss from the Grey Market Trading

Grey market refers to products sold legally, without the brand's permission. Such products harm relationships with distributors and damage the connection. With the integration of Blockchain, businesses have less Loss from such markets and improve efficiency.

Improve Visibility

With improved visibility and compliance over contract manufacturing, you will enhance your organization's position as a leader and provide a suitable platform for the buyers, sellers and retailers to increase their production.

Reduce Paperwork and Administrative Cost

In traditional times, it took a lot of effort by businessmen to make a record on paper about the delivery and shipping. The cost is also high due to weak strategies to deliver the products and services. Blockchain becomes a vital key for the dealers to manage the complete procedure timely and at less cost.

Strengthen Corporate Reputation

The performance of the supply chain has a significant impact on the rational drivers of corporate reputation. Blockchain makes it easier for the organizations like consumer goods, food and beverage, and industrial products to achieve the desired goal and improve supply chain and reputation metrics.

Build Public Trust

When the procedure from shipping to delivery of the products is fast and accurate, this will automatically build a strong customer base. Blockchain is the topmost solution that encompasses the supply chain to make the services fast available for the customers.

Engage Stakeholders

By integrating Blockchain with the supply chain. You can earn customers by proving that they are collaborative partners. Transparent engagement is the simple solution to build credibility with stakeholders and build a strong connection with them by delivering the services on time.
How Companies Transforms their System via Supply Chain
With the integration of Blockchain in the supply chain systems, companies provide complete data visibility and a single source of truth to their customers. Transactions are always up to date, and organizations can query the location at any time.
Various issues will be resolved, like compliance violations, delays and waste. The actions for the emergencies were taken immediately once the error was recognized. By indulging with innovative technology like the internet of things, the supply chain automates tracking of the condition of production, transportation and quality control.
With the help of this powerful technology, parties can help customers with reduced time delays and human error frequently associated with transactions. In addition, it reduces the risk of fraud and enables organizations to pinpoint its source.
Web 3.0 developer nowadays introduce new strategies for the supply chain in their systems to make them more secure and easily accessible by users.
So, choose new methods for your organizations and have a great market value.
How smartData approach to Digital Supply Chain Management
smartData provides supply chain management services globally with the latest technologies that have brought 50 per cent improvement in data accessibility and opportunities for our clients.
Our applications deal with the core fundamentals of Forecasting & Demand planning, Lean Inventory management & Freight transportation. We have developed applications that serve the core supply chain functions such as inventory management, warehousing, manufacturing, demand planning, purchasing and customer service.
To enhance the customer base and grow end-to-end visibility of real-time data. We focus on major key factors like automation, logistics & transportation, ERP, sales and financial planning to expand supply chain operations via integrated software.
Choose us now for digital supply chain solutions. We are always there to help you out.
Conclusion
The demand for supply chain management is rising to get the services fast and accurately. However, there is considerable room to improve the supply chain regarding end-to-end traceability, product delivery and financing. For this, a blockchain is a powerful tool for overcoming deficiencies and transforming blockchain strategies.
It is the right time to access the potential of Blockchain for your business; you need to make efforts to develop new rules with various blockchain platforms. Choose our reliable services to build a robust ecosystem with other firms and make the systems more advanced by integrating the latest technology.