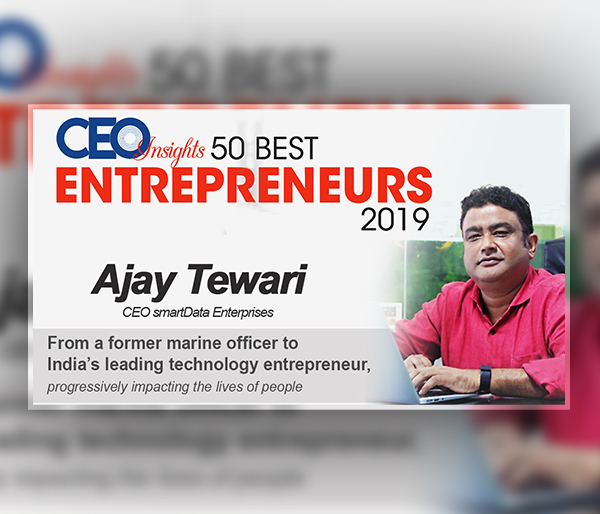 Best Entrepreneurs – 2019
A former marine officer to a leading technology entrepreneur, Ajay Tewari, CEO smartData has been an exceptional leader by all means. He has been recently awarded as one of the top 50 entrepreneurs 2019 by CEO Insights. When asked what initial challenges he faced and how he tackled them, he said "The equation back then was quite simple with only two predominant questions – how do we get more business and how do we get more people to work for a startup? We decided to support the startup ecosystem in the U.S. and adapt according to their needs. The strategy was simple. For instance, even if seven out of our 10 customers don't make it, we could grow with the rest three. And it worked very well."
CEO Insights 50 Best Entrepreneurs 2019 recognizes the great entrepreneurs who have created jobs, created some of the most global companies offering world-class products from India, and whose products/services or CSR activities have brought a change in society. In one word they are GREAT- Gratitude towards society, Rational approach, Exuberant about innovation, Allegiance to ethics, and Torchbearer of change. An entrepreneur looks at a bigger picture and has loftier goals beyond profit margins. They spot the potential in previously ignored sections of the society and are able to take calculated risks, and revisit old prejudices. All these capabilities and vision to see far were the key deciding factors for selecting the top 50 entrepreneurs.
Ajay commenced the operations of smartData Enterprises in 1996 and since then have been ensuring that the best and latest technologies are being used to meet clients requirements. He earned his B.Tech HND from Marine safety Agency UK and Bachelor of Nautical Sciences from Bombay University, India. As an alumnus of T.S.Rajendra, he has served international shipping companies for 11 years. He is also a founding member and former President of The Indus Entrepreneurs' (TiE) Chandigarh chapter and has mentored budding entrepreneurs, and at any given point of time, he is actively involved in mentoring 2-3 company heads.
Fitness has always been his priority, whether for self, family or employees (whom he proudly calls smarTians). He has successfully scaled Everest base camp twice, Kanchenjunga base camp & recently Rupin pass to name a few.
https://www.ceoinsightsindia.com/magazines/best-entrepreneurs-special-march-2019/