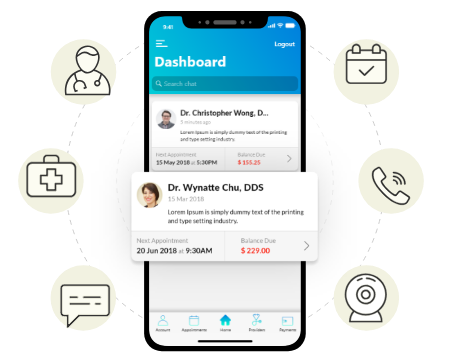 Mobile health popularly known as m-Health allows doctors/clinics or any healthcare practitioner to connect with patients and staff more quickly and dynamically. Thus, reaching out to them on a device of their choice and convenience. It is a now a necessity than just a trending technology wave.
Apps designed/developed for a smartphone, tablet, or even a smartwatch allow users to access information anywhere anytime as per their need, minimizing search time for that data, boosting both engagement and meeting the expectations of patients with an excellent satisfaction rate. Being a promising healthcare service provider smartData provides custom mobile healthcare app platforms and solutions for all healthcare professionals, patients, health-conscious end users, and all intermediaries like labs, pharmacists, hospital administration for mobile platforms iOS, Android, React Native and Flutter.
Let's walk you through our m-Health services in more detail:
Organizing, managing, monitoring, scheduling, intervening and reviewing the services of healthcare platform to allow users to take corrective and preventive actions to stay fit.
Taking streamed data feeds from multiple devices configured in a patient's home like biomedical devices/medication dispensing devices, sensory devices such as bed mats/door sensors and absconding management.
HIPAA Compliant secure architecture video platforms for behavior healthcare patients providing patient to counselor match, survey forms, appointment scheduling, and tracking of counseling sessions all available at one click.